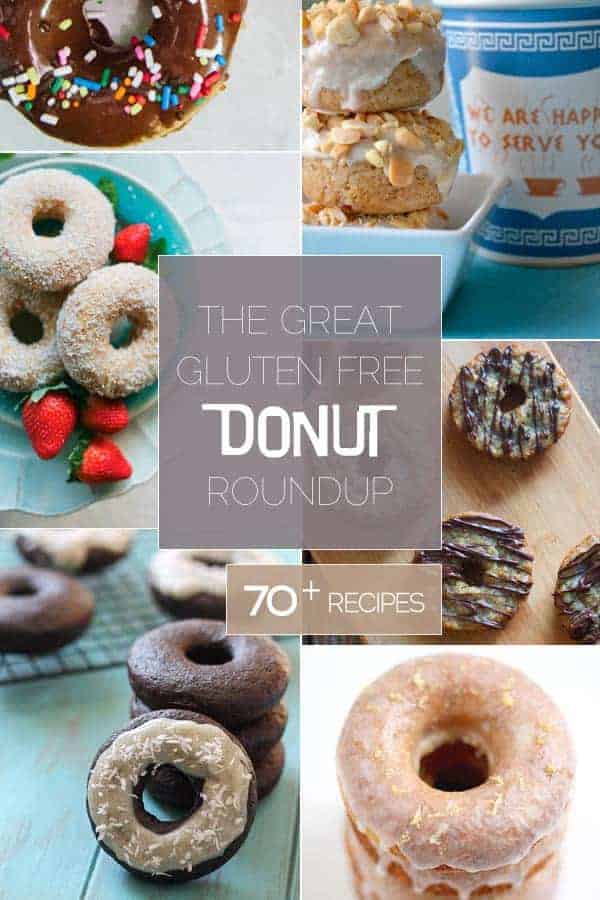 I have a thing…a thing for donuts. Or is it doughnuts? Who cares right? As long as there are plenty of them to go around. The great gluten free donut round up has over 70 amazing donut recipes from all over the blogosphere for you to try. Are you as excited as I am?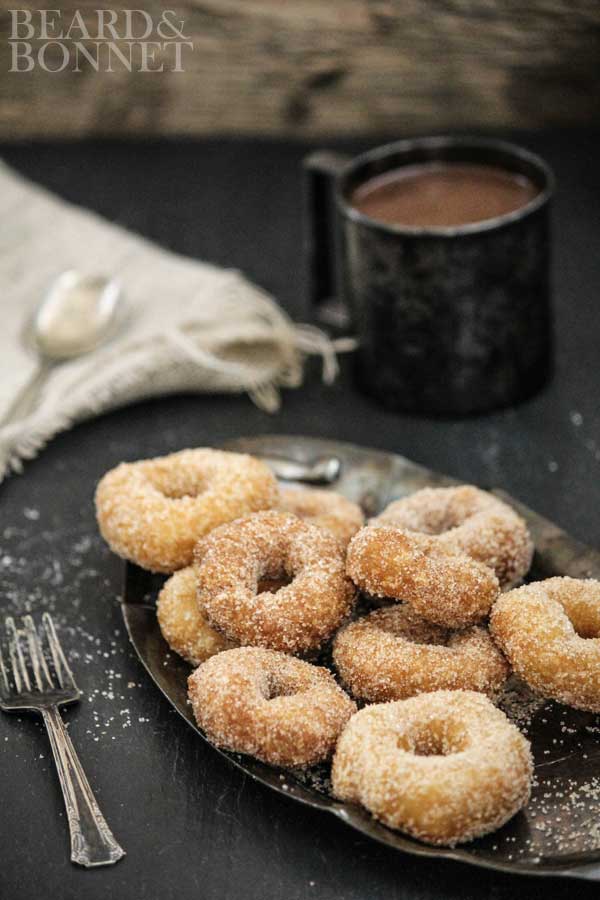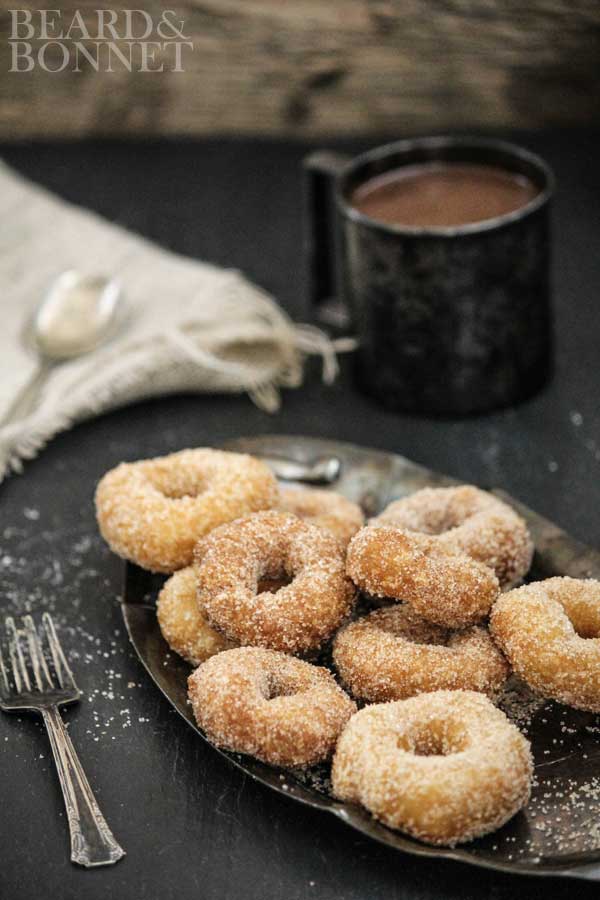 Here on B&B I have shared a few donut recipes of my own that I am pretty proud of like my Cinnamon Sugar Donuts. These little babies are hand formed, fried in coconut oil, and coated in the perfect blend of cinnamon and sugar. They remind me of donuts we used to get at the fair and if I am not careful I can eat an entire batch all by myself. They are easy and super fun to make. Of course you could always coat these in powdered sugar or melted chocolate if cinnamon sugar isn't your thing. I won't judge you!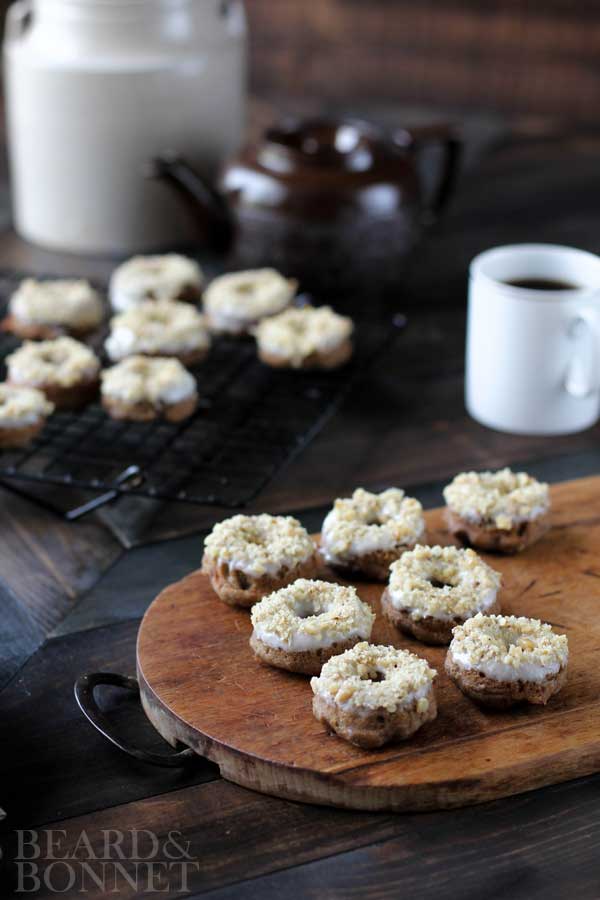 If bathing donuts in a vat of bubbling coconut oil isn't your thing then maybe baked banana bread donuts are more your speed. Whether you take the time to add the frosting and chopped walnuts or not these donuts are insanely good on their own. They have banana's in them too which technically makes them healthy…right?
Hungry for more donut inspiration? Check out the recipes below!
Gluten Free Apple Cider Doughnuts from Rolling Out Dough
Baked Pumpkin Chocolate Chip Donuts with Chocolate Ganache from Life Made Sweeter
Classic Buttermilk Baked Doughnuts with Chocolate + Vanilla Glaze from Edible Perspective
Gluten Free Chocolate Donuts with Quinoa Crispies from Simply Quinoa {Pictured above photo courtesy of Simply Quinoa}
Apple Cinnamon Donuts with Maple Glaze from G-Free Foodie
Baklava Doughnuts by Naturally Ella from Baked Doughnuts for Everyone by Ashley McLaughlin {Pictured above photo courtesy of Naturally Ella}
Gluten Free Donuts from G-Free Foodie
Samoa Baked Doughnuts with 1-Minute Maple Caramel from Edible Perspective
Pumpkin Doughnut Holes with Maple Glaze from The Food Hunter's Guide to Cuisine
Pumpkin Spice Latte Donuts from Sarah Bake Gluten Free Treats
Lemon Poppy Seed Doughnuts by The Faux Martha from Baked Doughnuts for Everyone by Ashley McLaughlin {Pictured above photo courtesy of The Faux Martha }
Strawberry Lemon Curd Doughnuts from Edible Perspective
Maple Frosted Donuts from Fork and Beans
Fried Donut Holes from Petite Allergy Treats
Baked Pumpkin Spice Donuts from Jeanette's Healthy Living
Almond Joy Style Baked Donuts from Food, Faith, Fitness {Pictured above photo courtesy of Food, Faith, Fitness}
Chocolate Espresso Doughnuts by Edible Perspective from The Homemade Flour Cookbook by Erin Alderson
Moist Chocolate Paleo Donuts from Lexie's Clean Kitchen
Pumpkin Donut Holes from The Healthy Maven
Cinnamon Roll Almond Flour Donuts from Roost
Savory Kale + Sun-Dried Tomato Basil Doughnuts from Edible Perspective
Banana Bread Donut Splits from Food, Faith, Fitness {Pictured above photo courtesy of Food, Faith, Fitness}
Apple Cider Donut Holes from Lexie's Clean Kitchen
Banana Maple Donuts from Sarah Bakes Gluten Free Treats
Gingerbread Donuts with Vanilla Bean Frosting from All Day I Dream About Food
Powdered Sugar and Chocolate Covered Mini-Donuts from Fork and Beans {Pictured above photo courtesy of Fork and Beans}
Banana Bread Donuts from Lexie's Clean Kitchen
Christmas Wreath Donuts by Sarah Bakes Gluten Free Treats on One Creative Mommy
Baked Dark Chocolate Peanut Butter Donuts from Amy's Healthy Baking
Paleo Peppermint Donuts from The Healthy Maven
Double Chocolate Donuts with Coconut from Tasty Yummies
Baked Snickerdoodle Donut Holes from Amy's Healthy Baking {Pictured above photo courtesy of Amy's Healthy Baking}
Baked Vanilla Glazed Donuts from Sarah Bakes Gluten Free Treats
Boulder Cream Doughnuts from The Spunky Coconut
Pumpkin Donuts with Chocolate Glaze from Farmgirl Gourmet
Grain Free Cinnamon Roll Donuts from Texanerin Baking {Pictured above photo courtesy of Texanerin Baking}
Gluten Free + Dairy Free Chocolate Donuts from Tasty Yummies
Vegan Snickers Mini Donuts from Fork and Beans
Pecan Pumpkin Glazed Donuts from Purely Twins
Churro Donut Holes from Nutritionist In The Kitch
Paleo Chocolate Donuts with Coconut Vanilla Bean Icing from Running to the Kitchen {Pictured above photo courtesy of Running to the Kitchen}
Chocolate Avocado Donuts with Avocado Mocha Ganache from California Avocado
Maple Apple Cinnamon Donuts from Tasty Yummies
Cinnamon Gluten Free Donuts from The Spunky Coconut
Baked S'mores Donuts from Petite Allergy Treats
Gingerbread Donuts from Fork and Beans {Pictured above photo courtesy of Fork and Beans}
Low Carb Coconut Flour Fried Donuts from All Day I Dream About Food
Banana Cinnamon & Sugar Doughnuts from The Spunky Coconut
Samoa Donuts from PaleOMG
Brioche Doughnuts from A Baking Life
Low Carb Chocolate Brownie Donuts from All Day I Dream About Food {Pictured above photo courtesy of All Day I Dream About Food }
Cake Style Doughnuts from The Art of Gluten Free Baking
Cherry Blossom Doughnuts from Cannelle Et Vanille
Tiramisu Mini Donuts From Fork and Beans
Chocolate Donut Holes from Gluten Free on a Shoestring
Mini Baked Double Chocolate Donuts from Petite Allergy Treats {Pictured above photo courtesy of Petite Allergy Treats }
Raised Maple Glazed Doughnuts from Cannelle Et Vanille
Almond Spiced Donuts with Chocolate and Coconut from So…Let's Hang Out
Classic Chocolate Donuts from Pure Ella
Chocolate Cream-Filled Yeast-Raised Doughnuts from Gluten Free On A Shoestring
Baked Brown Butter Donuts with Chocolate Glaze from So…Let's Hang Out {Pictured above photo courtesy of So…Let's Hang Out}
Coconut Doughnuts from Canelle Et Vanille
Baked Pumpkin Doughnuts with Coconut Maple Caramel Glaze from Heather Christo
Powdered Cake Doughnuts from Food & Wine
Carrot Cake Donuts from Inspired Eats
Coconut Vanilla Donuts from Pure Ella {Pictured above photo courtesy of Pure Ella}
Maple Blueberry Doughnuts with Lemon Glaze from Gluten Free On A Shoestring
Key Lime Donuts from Edible Perspective
Roses and Pearls Vanilla Bean Donut from Eat the Love
Apple Cider Doughnuts from Taste of Home
(Visited 67 times, 67 visits today)