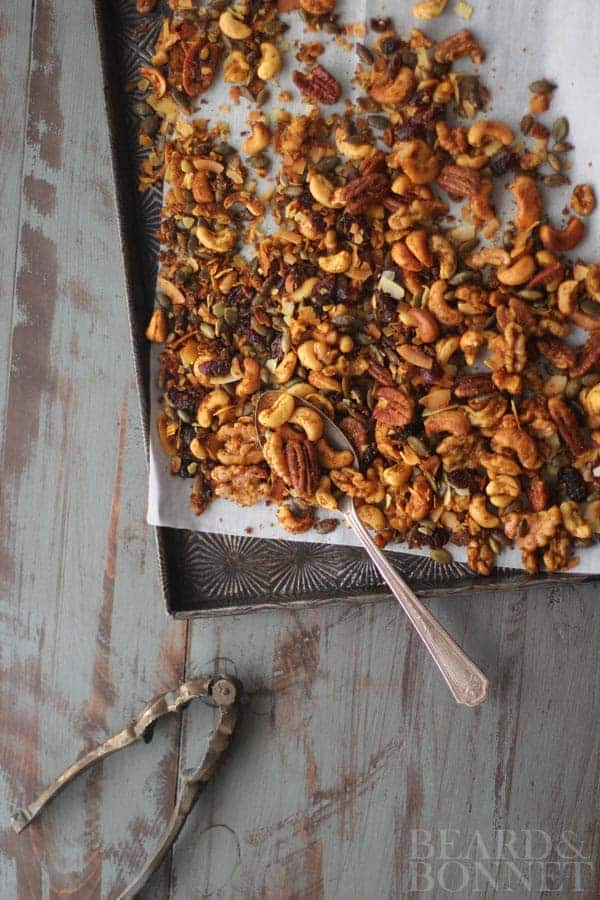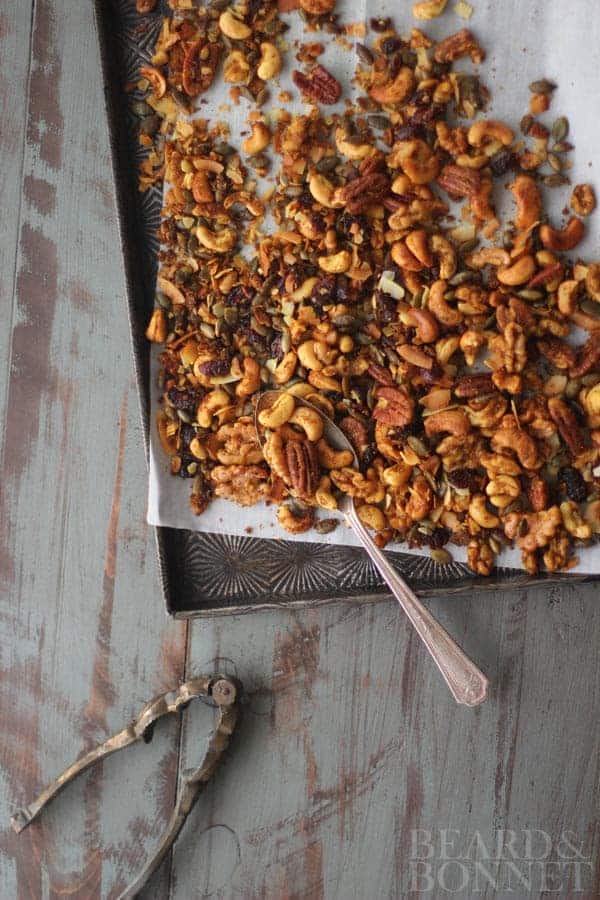 I don't know about you, but we are obsessed with curry!! You could pretty much slap curry spices on just about anything and we would give it a try. A few weeks ago when I first made my Roasted Red Curry Potato Stack Salad for Todd and he crunched down on one of the curry roasted cashews I had tucked into the greens he immediately declared "Those cashews are insane!!" After we were done with our lunch I caught him scouring the serving platter for any cashews that had been carelessly left behind and devouring every last one of them.
I adore finding new ways to reinvent foods that he loves so I spent the next few days turning those curry roasted cashews into the perfect curry roasted trail mix. Now he can pour himself a bowl in the evenings or take a big bag with him to snack on while he is traveling for work, because lets face it, homemade snacks are the best! This blend combines all of Todd's favorite things; cashews, pecans, walnuts, and pepitas that are slowly roasted in a spicy curry sauce then tossed with a few of my favorites sweet dried cranberries and toasted coconut flakes.  All together this trail mix is the perfect blend of sweet and heat, kind of like us.
Print
Curry Roasted Trail Mix
4 tablespoons

vegan butter

2 tablespoons

hot madras curry powder

1 teaspoon

Kosher salt

¼ teaspoon

cayenne pepper

1 ½ teaspoons

granulated sugar

1 cup

raw cashews

½ cup

raw walnut halves

½ cup

raw pecan halves

¼ cup

pepitas

½ cup

unsweetened flaked coconut

¼ cup

dried sweetened cranberries
Instructions
Preheat the oven to 350°F and line a baking sheet with parchment paper. Set aside.
In a small saucepan combine the vegan butter, curry powder, salt, cayenne, and sugar over medium heat and stir frequently until the butter is completely melted and the spices are fragrant.
While the sauce is cooking combine the cashews, walnuts, pecans, and pepitas in a bowl. When the curry sauce is cooked through pour the sauce over the nuts and stir to mix well. Pour the nuts onto the prepared sheet pan in an even layer and roast in the oven for 10 minutes.
Remove the pan from the oven add the cranberries and the coconut. Stir and spread everything out into an even layer. Place the pan back into the oven and continue to roast for another 3-5 minutes until the coconut is lightly toasted.
Cool completely and store in an airtight container for up to a week.
Recipe Card powered by