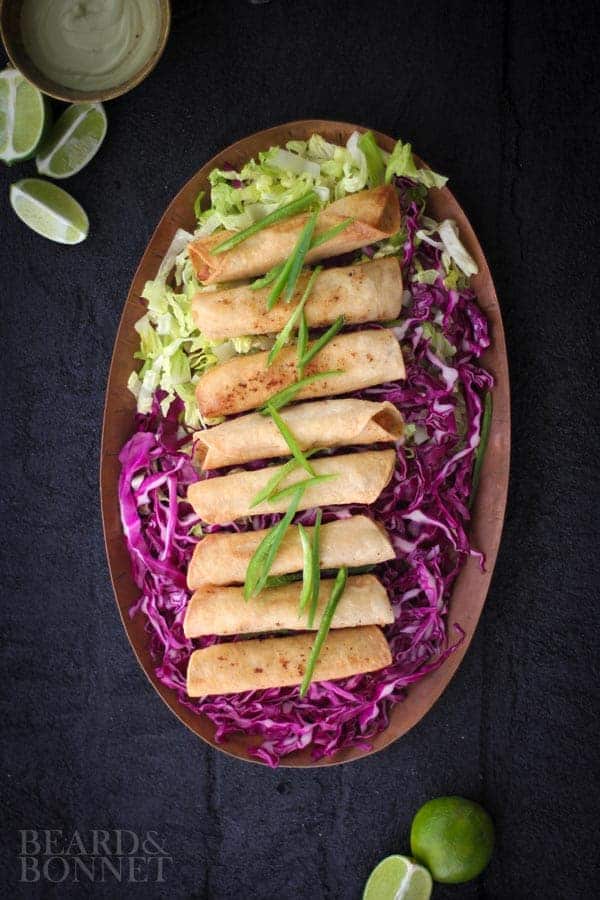 Oh yeah!!! You knew it was only a matter of time before I threw another batch of taquitos your way right?! I mean, I know you love them as much as I do because my sweet potato and lime taquitos and black bean flautas are two of Beard and Bonnet's most popular posts of all time. I love that our taste buds are on the same page!
Along with my major addiction to taquitos I also have a slight obsession with potato tacos. I always get so excited when I see them on a menu and more often than not I am left disappointed when I take my first bite. Usually my lack of enthusiasm has something to do with the fact that the filling is bland or the potato tacos weren't fried at the right temperature which leaves them slightly limp instead of crisp on the outside and tender in the center. I then find myself piling on the salsa, sprinkling salt and pepper, and feeling like I should have just made them at home for myself.
Out of utter restaurant frustration these spicy potato taquitos came to be. The crisp outer shell is stuffed with creamy homemade mashed potatoes that have been spiked with my favorite fire roasted chunky salsa and jalapeno jack cheese. If that isn't enough flavor for you I am also sharing our favorite taquito dipping sauce; my roasted jalapeno and avocado cashew cream! Saying that these are a flavor explosion is an understatement.
If you follow a vegan diet you will be happy to know that except for the jalapeno jack cheese shreds in these taquitos this recipe is already vegan. Simply sub out the cheese with the vegan cheese shreds that you like the best. Now, go make taquitos and get your Mexi food fix!
Print
Roasted Jalapeno and Avocado Cashew Cream
Author:
Yield:

1 1/2 cups

1

x
Scale
Ingredients
1/2 cup

raw cashews, soaked for

4

–

6

hours, rinsed, and drained

1

roasted jalapeno, peeled and seeds removed

1 tablespoon

minced red onion

1/2 tablespoon

freshly squeezed lime juice

1/2

of a small avocado

3/4 cup

water

1/2 teaspoon

Kosher salt
Instructions
Combine all of the ingredients in a high speed blender in the order listed above. Process until smooth. Store in the refrigerator if not using immediately and use within 3 days.
Recipe Card powered by
Print
Spicy Potato Taquitos with Roasted Jalapeno and Avocado Cashew Cream
Author:
Yield:

4

as a main, 8 as an appetizer

1

x
Scale
Ingredients
1.5

lb russet potatoes, scrubbed, peeled and cut into equal size chunks

1 tablespoon

Kosher salt

2 tablespoons

vegan butter

1/4 cup

canned full fat coconut milk

1/2 cup

of your favorite chunky salsa, I use a fire roasted one from our favorite Mexican restaurant

1/4 cup

shredded jalapeno jack cheese or vegan cheese shreds

1/2

of 1 large lime

12

–

14

white corn tortillas, warmed (see note)
grapeseed oil for frying
Instructions
Place the potatoes in a large stock pot, add salt and water to cover the potatoes. Bring to a boil over high heat then reduce the heat slightly to maintain a rolling boil. Cook until the potatoes fall apart when poked with a fork, about 10-12 minutes depending on the size of the potatoes.
Meanwhile, heat the vegan butter and coconut milk in a small saucepan over medium-low heat until the butter is melted and the mixture is warmed through and slightly steaming. Set aside.
When the potatoes are ready drain the water and put the potatoes back into the pot. Pour half of the butter and milk mixture over the cooked potatoes and mash with a handheld potato masher until smooth. If the potatoes need more liquid slowly add more of the butter and milk mixture and mash until smooth and no lumps remain. Allow the potatoes to cool completely so that the mashed potatoes can thicken.. (This step can even be done the day before you want to make the taquitos.)
Once the mashed potatoes have cooled and thickened stir in the chunky salsa and cheese to combine.
In a large heavy skillet, heat ¼-inch of oil over medium heat. Working with one warmed tortilla at a time, rub the fleshy side of half of a lime over the tortilla then spread 1 1/2 tablespoons of the mashed potatoes evenly along one side of the tortilla. Gently roll the tortilla tightly beginning on the side with the filling. Use a toothpick to secure the taquito so it doesn't unroll while cooking. (Corn tortillas have a tendency to dry out quickly and split, so I rolled 4 taquitos then placed them in the hot pan and rolled 4 more while the others were cooking until they were all finished.)
Place the prepared taquitos seam side down in the hot oil and cook, rotating with tongs, until they are golden brown and crispy on all sides, approximately 4-5 minutes per batch. Continue to cook the rest of the taquitos in batches, adding more oil as needed. Remove the toothpicks after you have fried them and serve with the Roasted Jalapeno Cashew Cream sauce.
Notes
*Cook time does not reflect the amount of time you need for the potatoes to cool.
**Corn tortillas will often tear if they're not warmed before you roll them. To heat them up, simply wrap them in a damp paper towel and heat them in the microwave for 30-45 seconds at a time until they're pliable.
***If you'd prefer to bake your taquitos, soak the toothpicks in water while you're doing the prep work and preheat your oven to 400ºF. Spray a baking sheet with an oil mister. Prepare the taquitos as described in the recipe, then place them on the baking sheet. Spray them with oil and bake for 15-20 minutes, until crisp.
Recipe Card powered by
SaveSave