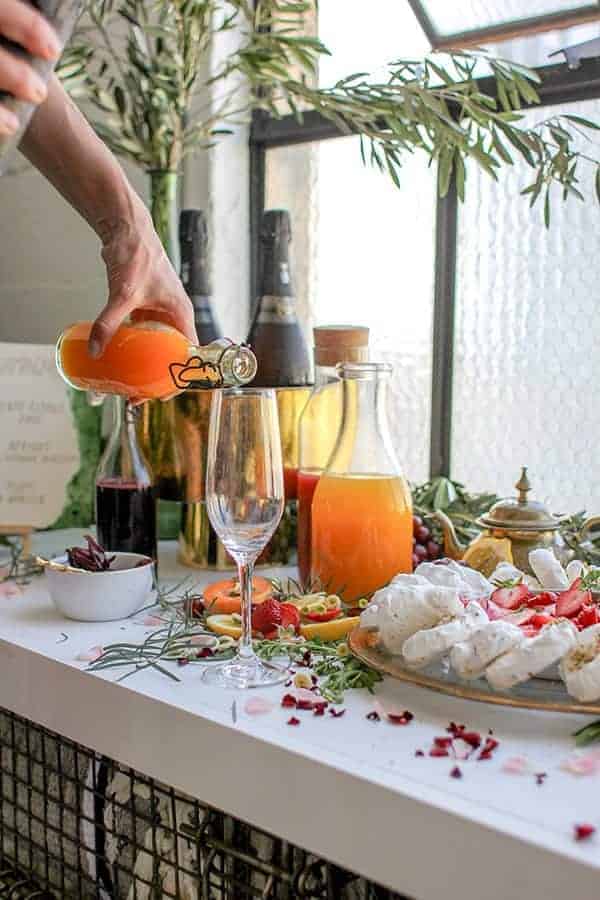 When it comes to summertime entertaining easy cocktails are a must! Recently I hosted a wanderlust inspired bridal shower for our friend Aida with my fellow Friends Who Fête party gal Kate . (You can get ALL the party details by clicking here!) Our travel-loving friend's shower was inspired by Morocco, because of all of the places she has been in the world Morocco is on her bucket list for the ultimate destination to visit. We researched flavors and commonly used ingredients in Moroccan cuisine and came up with quite a delicious spread for our party guests that included this gorgeous bar of Champagne cocktails.
Whether you are hosting a summertime brunch or full-scale bridal shower like we did you are definitely going to want to add a champagne bar to the menu for your guests. This type of beverage situation allows guests to serve themselves so you don't have to spend your time as the host taking drink orders and filling glasses, but can instead enjoy the soireé that you put so much time and effort into throwing!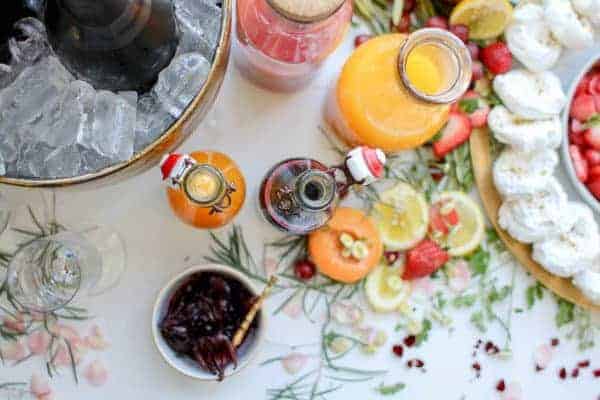 1. Offer lots of flavor combinations || For Aida's Moroccan-inspired wanderlust shower I served 3 different types of sweetened fruit syrups that were all inspired by Moroccan flavors as well as a pitcher of fresh pressed orange juice for those guests that preferred a more classic mimosa type of a situation. Fruit syrups are super easy to make, they last for days in the fridge so you can prep them in advance of your party, and they also make delicious homemade sodas for the kids when mixed with sparkling water.
For our Moroccan themed shower, we offered a trio of exotic syrup flavors: apricot & orange blossom syrup || hibiscus syrup ||vanilla bean & plum syrup.
Looking to build a champagne bar with more traditional summer flavors? You could serve a few of these syrups instead; blueberry lavender syrup|| strawberry peppercorn syrup|| blackberry orange blossom syrup|| peach ginger syrup.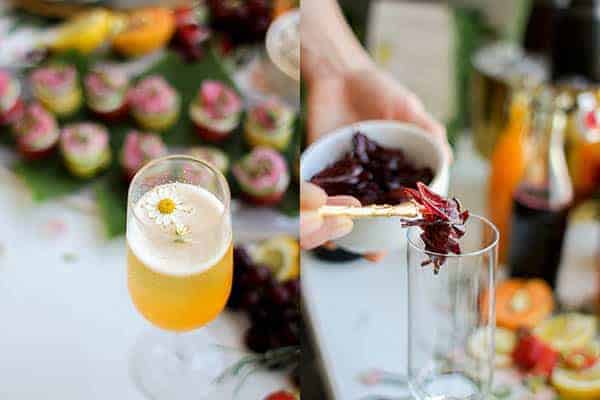 2. Offer fun, seasonal appropriate garnishes || Garnishes are sometimes overlooked when it comes to champagne drinks, but we think they're absolutely necessary, especially for parties like these! Garnishes aren't only for making these drinks pretty, which they do, but often times at parties like these guests start to mingle, set their glasses down and then can't remember who's champagne sipper is who's. Sadly, this can lead to extra dishes and wasted champagne drinks for you the host! Giving guests a variety of garnishes to choose from not only makes building their drinks fun and beautiful, but it will also help them to decipher their glass from everyone else's should they happen to become separated from it.
For our Moroccan inspired Champagne cocktails, we chose a variety of edible flower garnishes like chamomile blossoms, organic rose petals, and syrup soaked wild hibiscus flowers along with slices of apricots and plums to mimic the flavors in our syrups. However, if you are building a bar with more traditional flavors like we mentioned above you could easily opt for a variety of fresh berries for guests to use.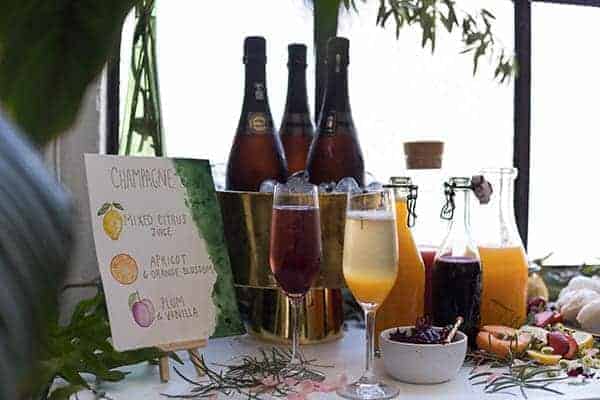 3. Create a champagne bar menu for your guests || Inevitably, guests will have questions about your offerings, but you can answer a lot of their questions for them in advance by placing a menu of Champagne cocktails out at your bar. We enlisted the help of local Long Beach watercolor artist Jess Weymouth to help us create a menu for the bar to match the one she made for our buffet at the party. We loved how fun and whimsical her menu looked, but if you don't have the time or the budget to enlist an artist to help you with yours, you can simply print out a menu on your computer and mount it in a pretty frame that matches your party decor.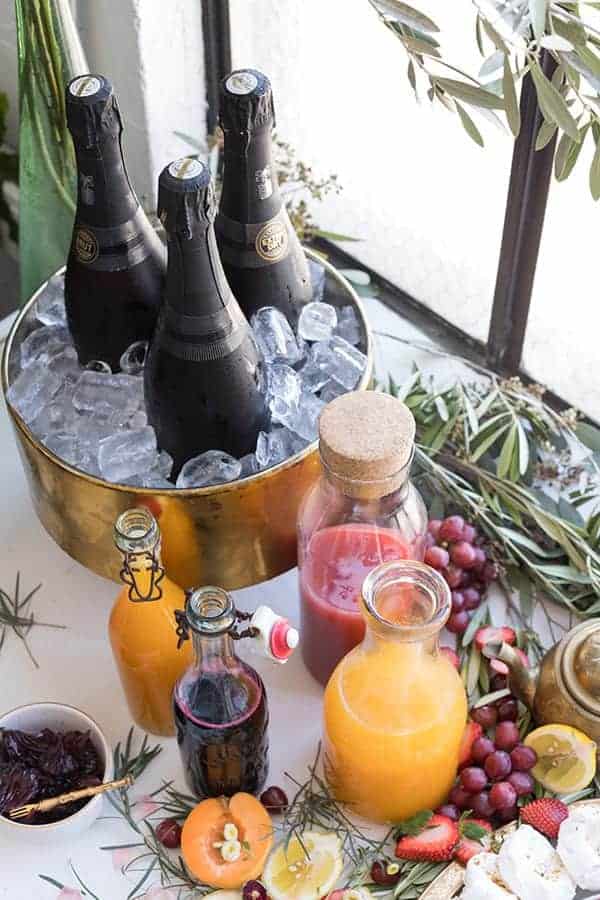 4. Choosing the right bubbly for your champagne bar || Whatever you do don't get suckered into buying expensive champagne for a bar like this. Inevitably your guests are going to be tasting more of the syrups and juice than the bubbly itself. The champagne I served at the shower happened to be on sale for $8.99 a bottle at the grocery store when I went shopping and since I really liked the way the black bottles looked I opted for it. Literally, anything goes, so save that expensive bubbly for sipping straight up and go for the cheap stuff!
Want to be a part of our online community outside of the blog? It's easy!! All you have to do is follow @THISMESSISOURS on FACEBOOK, INSTAGRAM, TWITTER, YOUTUBE, or PINTEREST to see cooking demos and peeks into our day to day life.
SaveSaveSaveSave
SaveSave
SaveSave