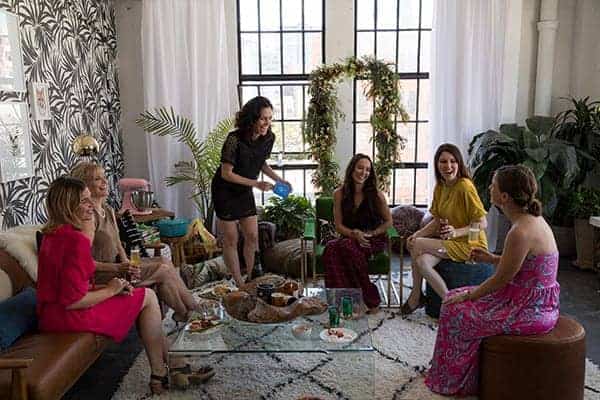 If you are planning your nuptials then you already know that eloping seems to be a growing trend in the wedding world. More and more couples are opting to wed now and party later instead of planning big lavish ceremonies. So is the case with our fellow party loving friends, Aida and Chris, who recently eloped to Thailand.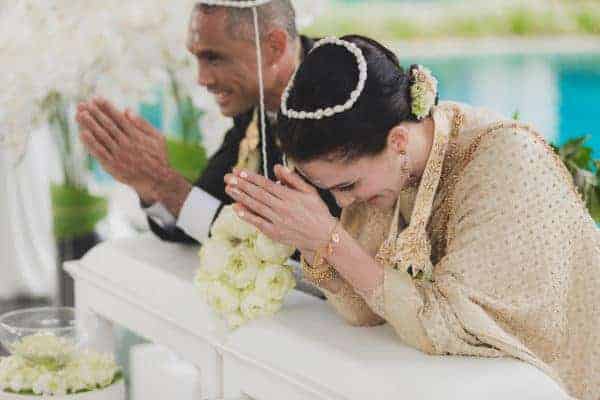 Aida travels all over the world with her site Salt & Wind in the search of delicious eats and exotic places, so we weren't surprised that she and Chris chose such an exotic location to exchange their vows. Once they arrived home we didn't waste any time planning a little wanderlust inspired happily ever after party so that we could celebrate this with them!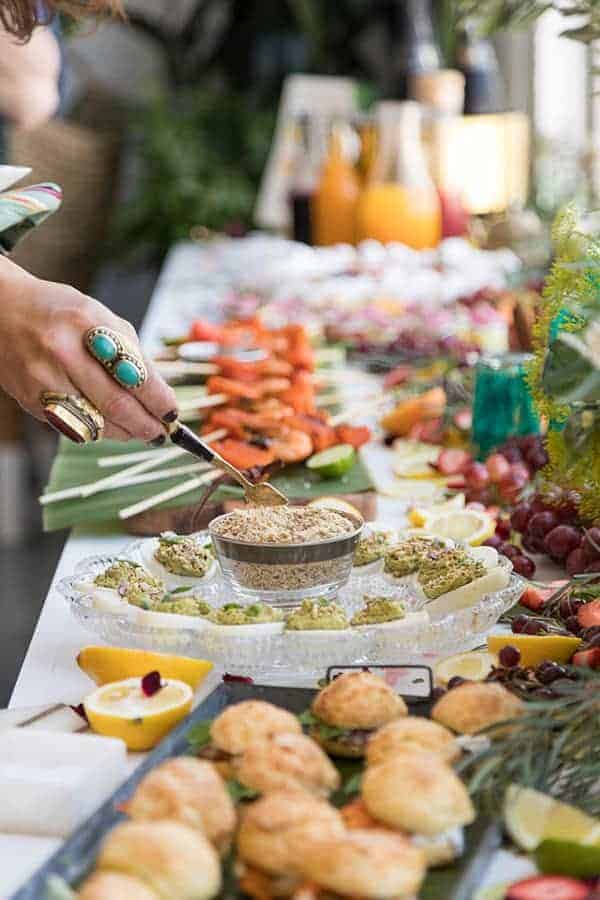 Out of all our food party ideas, Kate and I decided to go with a Moroccan-inspired shower because Morocco is at the top of Aida's travel bucket list. While neither of us have actually ever been there we sure did have lots of fun researching and planning such exotic food party ideas and are really excited to share all of the details with you so that you too can quench your wanderlust and escape to this exotic, far off destination at your next party!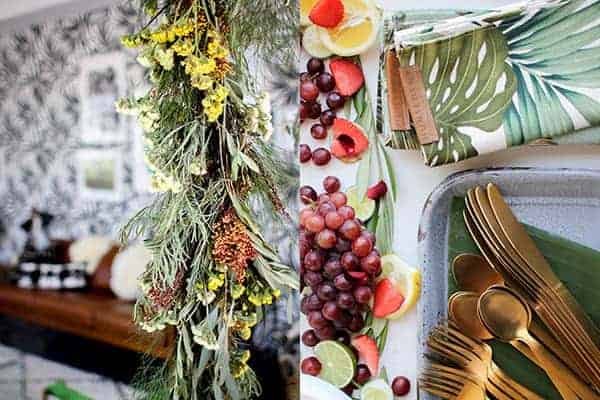 DECORATE || We were so lucky that the creative team behind the brand The Hunted Fox so graciously allowed us to host Aida's shower in their beautiful loft located in the heart of LA's fashion district! The natural light that floods their space and the unobstructed view of downtown LA are enough to take your breath away, but when you add in their gorgeous handmade pillows, ottomans, and seemingly endless collection of goods that they have curated during their travels around the world it truly made this space the perfect spot to celebrate our globe-trotting friend's nuptials. Moana even wowed us all by making custom linens for our guests to use!  Want to learn more about The Hunted Fox? Just click here for our shopping guide. 
We filled the buffet with gorgeous produce and banana leaves from Melissa's, a whimsical watercolor menu for our guests, pops of brass and gold, and a scattering of edible flowers like chamomile blossoms and dill flowers. The gorgeous floral wreath and bouquets that our flower whisperer friend Meredith created were made with olive branches, willow eucalyptus, seldom, statice, spray roses, and permosa fern. You may remember her mini floral and herb wreaths we used on top of the place settings for our other food party ideas, the Italian polenta party, earlier this year. The large scale hanging wreath that you see behind us in the images above is essentially the same thing just on a much larger scale.
Gold matte flatware || Handmade watercolor menu || Banana leaves for lining platters || Moroccan tea glasses  || Whimsical brass accents for the buffet || Tropical Bali leaves wallpaper || Ceramic blue & white platter || Vintage spatterware enamelware trays ||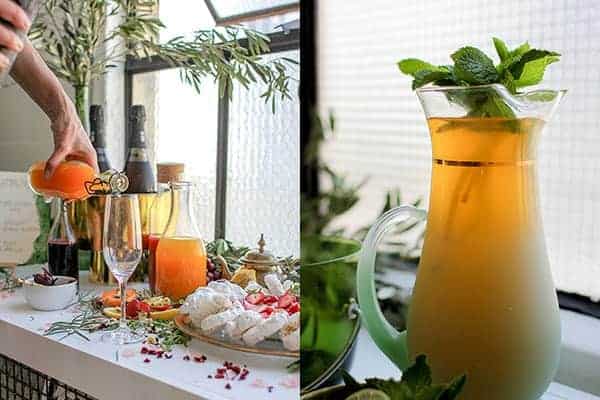 SIPS ||  When we were planning the menu for this party we knew we wanted to serve dishes that were full of traditional Moroccan flavors, but with a fun loving So Cal spin. Traditionally, making mint tea in Morocco is considered an art form and the drinking of it with friends and family is often a daily affair. In Morocco the pour is just as much of an art form as the tea is itself however since our guests would be serving themselves buffet style we decide to take a not so traditional spin on Moroccan mint tea by serving a Southern-inspired iced tea infused with passion fruit. Our champagne bar was full of fruit syrups inspired by traditional Moroccan flavors as well like apricot orange blossom, hibiscus, and vanilla bean & plum.
DIY Champagne Bar || This Mess Is Ours
Moroccan Passionfruit Minimalist Iced Tea || Salt & Wind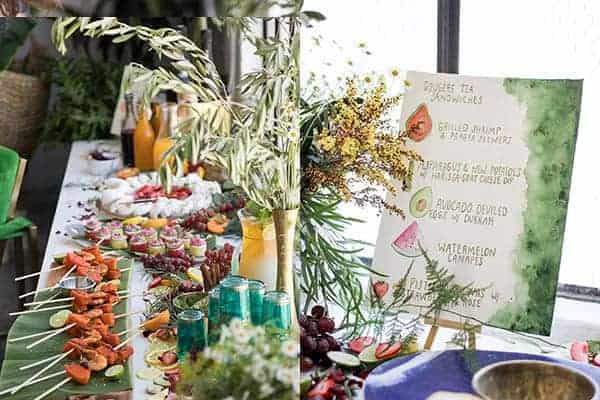 EATS || While our menu is anything but traditional Moroccan cuisine there are subtle nods to it with the ingredients and flavor combinations. There was truly something for everyone and every type of eater featured on this menu and our guests were raving about how delicious everything was.
Gougères Tea Sandwiches With Moroccan Chicken || Salt & Wind
Gougères Tea Sandwiches With Mint, Date Paste, and Goat Cheese || Salt & Wind
Gougerès Tea Sandwiches With Spiced Carrots, Tapenade, and Ricotta || Salt & Wind
Spring Asparagus & New Potatoes with Harissa Goat Cheese Dip || ¡Hola Jalapenõ!
Spicy Papaya Lime Shrimp Skewers || ¡Hola Jalapenõ!
Avocado Deviled Eggs with Dukkah || ¡Hola Jalapenõ!
Easy Watermelon Canapés || This Mess Is Ours
Individual Pistachio Pavlovas || This Mess Is Ours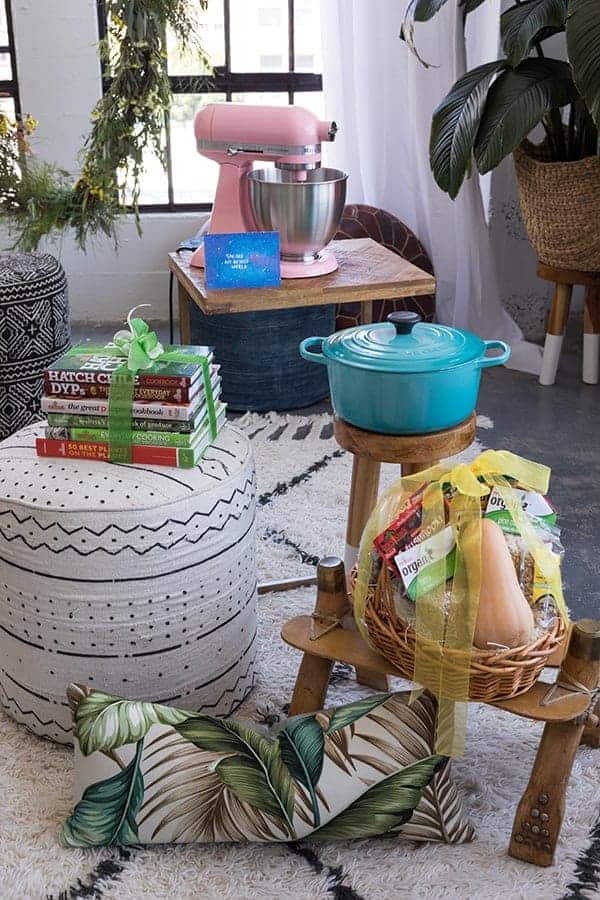 GIVEAWAY || THIS GIVEAWAY HAS NOW ENDED!! Every shower has a gift table for the bride and groom right?! Ours is no different except for the fact that you also have a chance to win everything that we gifted to the newlyweds!! We are so honored to have partnered with some amazing brands for our wanderlust inspired shower: KitchenAid, Le Creuset, Melissa's Produce, The Hunted Fox, and artist Jess Weymouth.
Want to be a part of our online community outside of the blog? It's easy!! All you have to do is follow @THISMESSISOURS on FACEBOOK, INSTAGRAM, TWITTER, YOUTUBE, or PINTEREST to see cooking demos and peeks into our day to day life.
SaveSave