When I see a box of Pop Tarts at the grocery store I instantly flashback to 1985 in my mind! Most Saturday mornings of my childhood were spent shoveling in untoasted, toaster pastries whenever my parents weren't paying attention. Why did I think my mom wouldn't notice? These days, I make my own gluten free, homemade pop tarts that are filled with strawberry jam then topped with jam-laced icing and sprinkles! I don't need anyone's permission to eat these but my own.
This post updated 2/2/2021 with new images, nutritional information, updated post information, and minor changes to icing recipe.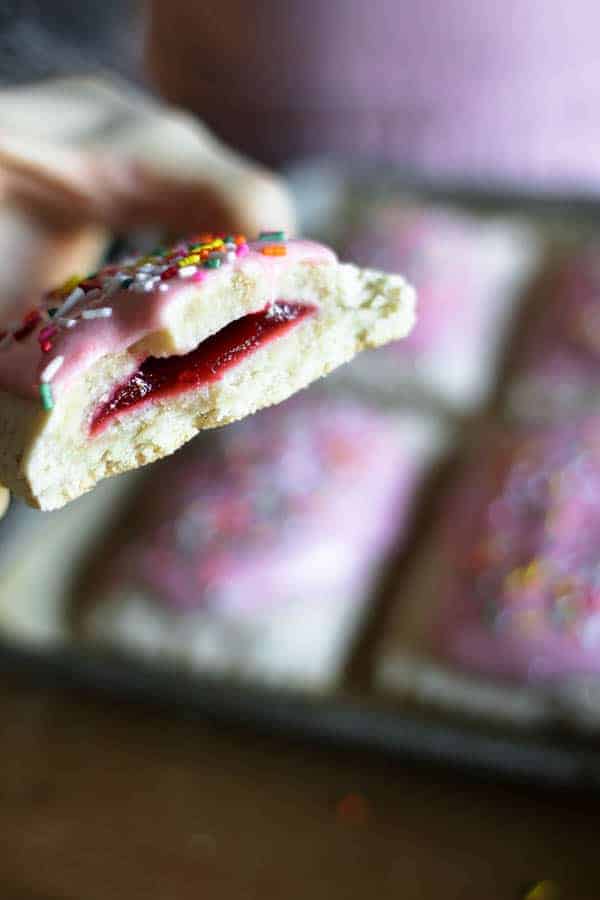 Why should you make homemade pop tarts?
I don't consider myself a big baker, but there are some things that are worth the extra effort of making at home. Homemade pop tarts are one of them!
First and foremost for me, it is important that if I indulge in pop tarts of any kind that they are gluten free. I've tried the gluten free alternatives on the market and I have to say that they pretty much suck, don't taste like a pop tart at all, and they are expensive!
Second, when you make homemade pop tarts you have the ability to mix and match flavors exactly the way you want them while also having the ability to pronounce exactly what's in them! Have you ever read the back of a Pop Tart's box? I don't suggest it.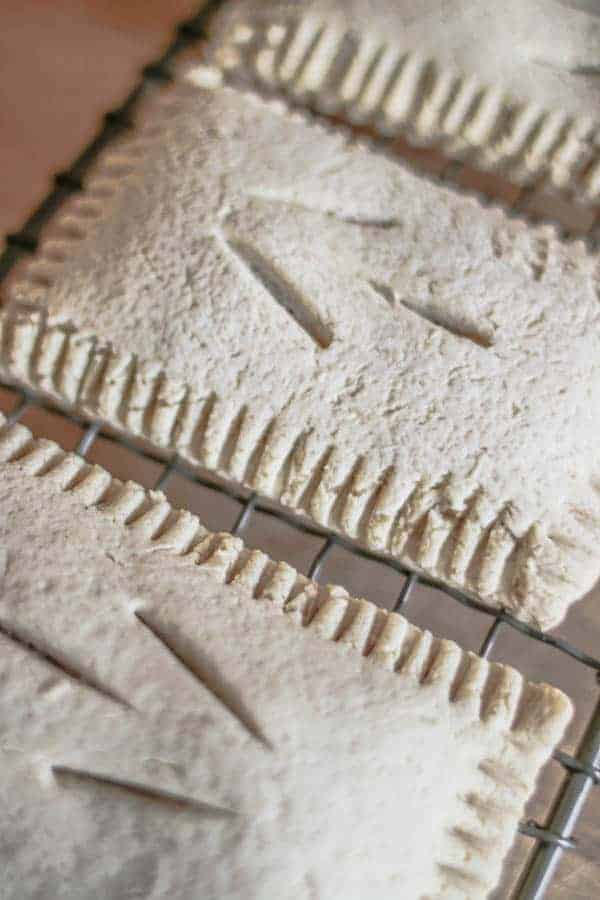 What kind of pastry is used to make gluten free pop tarts?
For these gluten free pop tarts I used a simple, one bowl pastry recipe that comes together in a cinch and is easily rolled with a rolling pin without sticking! It combines all-purpose gluten free flour with cornstarch, salt, and sugar.
Once those are whisked together, I create a well in the center of the flour and add all of the wet ingredients. This dough comes together pretty easily just by stirring and gently working the dough in the bowl no kneading or special equipment required.
Not all gluten free flours are the same! If you do find that the dough is a bit too wet and is sticky or it's a bit too dry and you have some visible flour left behind you can simply add a teaspoon of milk or flour, depending on which you need, at a time until the dough is a workable consistency.
If you don't want to make a dough from scratch you can always use a gluten free pie crust mix and assemble as instructed below. It won't taste the same, but it's sweet jam in a flaky pie crust pocket - you won't find yourself complaining about it, promise.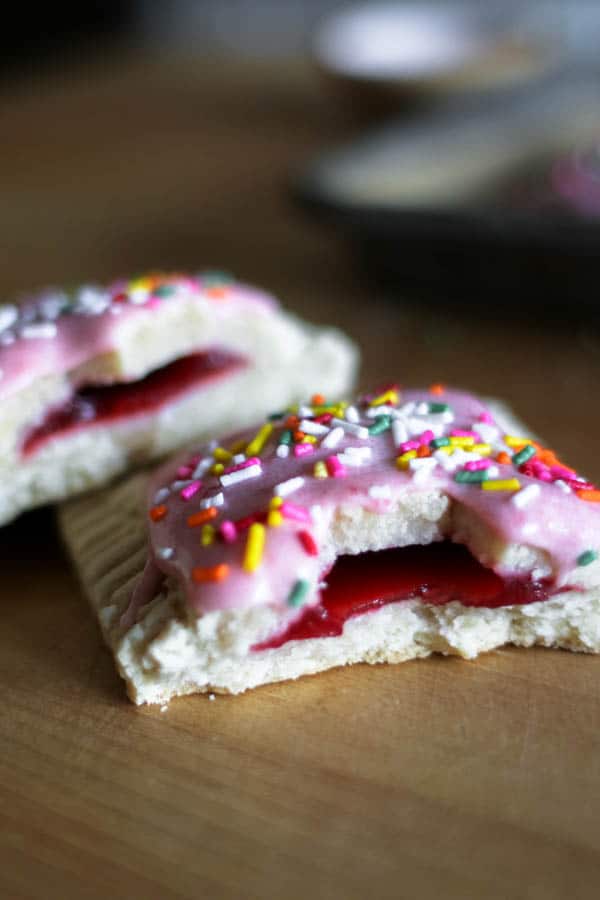 What type of jam is best for making homemade pop tarts?
Pop tarts have a lot of sugar, especially the store bought kind, but honestly even the homemade version is a bit over the top. You don't want such sickeningly sweet pop tarts that make your teeth ache when you bite into them do you?! No way!!
In my homemade pop tart baking escapades over the years I have tried just about every type of jam and jelly available at the grocery. My absolute favorite jam to use is actually a sugar free, seedless jam.
I find that sugar free seedless jam stays in place when I'm stuffing and sealing the pop tarts, it's less likely to become super liquid and ooze out of the dough when baking, and it helps to cut through the sweetness of the icing.
Speaking of icing.....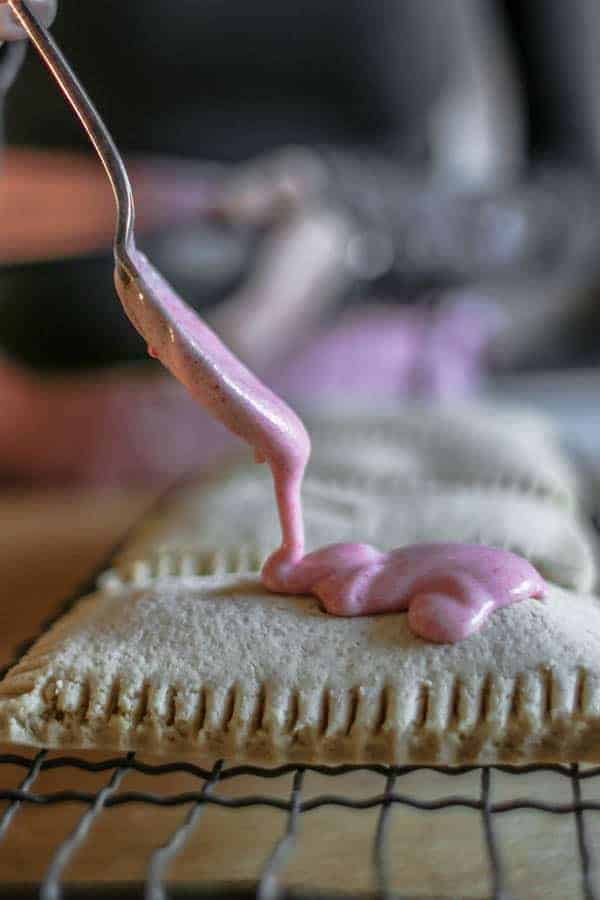 What type of icing is best for homemade pop tarts?
Powdered sugar based icings are my favorite to work with when it comes to things like cookies and pop tarts! This one is tinted pink and flavored with the same sugar free strawberry jam that I used to fill the pop tarts.
Not a fan of strawberry? Try raspberry pop tarts by subbing in seedless sugar free raspberry jam. Or blackberry, blueberry, heck even peach pop tarts are fantastic!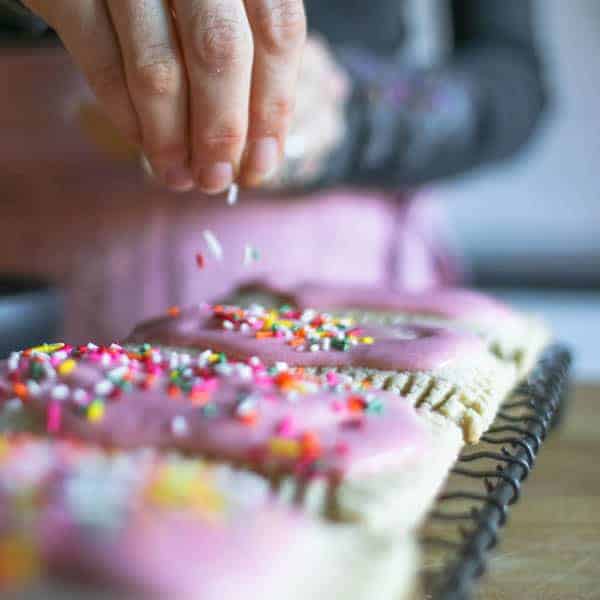 Fun ways to decorate pop tarts!
The sky is really the limit, if you can envision it for your pop tarts you can have it! I like to use all sorts of fun colored sprinkles and even have been known to mix up 2 different fruit flavored icings and swirl them together. There are no wrongs or rights here, it is all up to you and your imagination!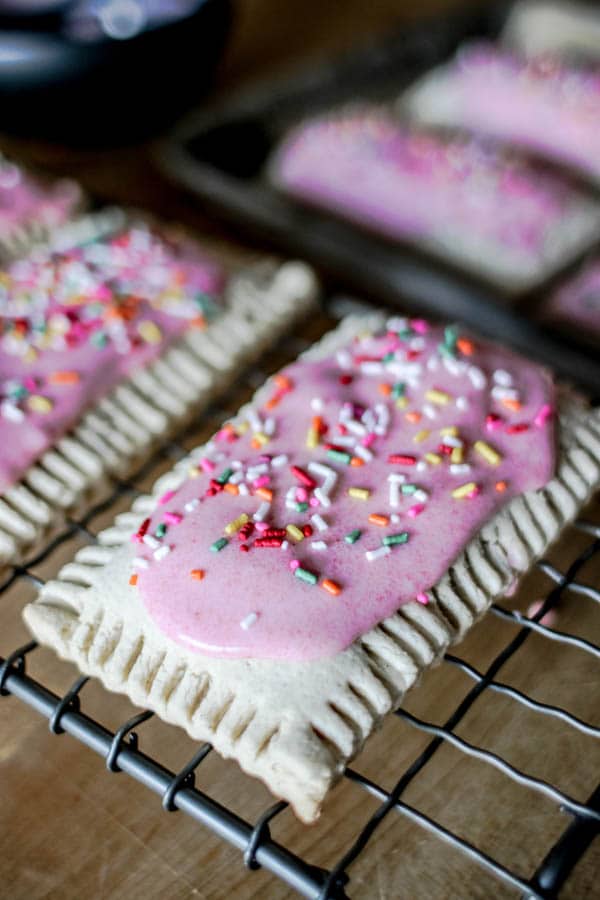 If you love this nostalgic recipe, we have more recipes that will indulge your inner child...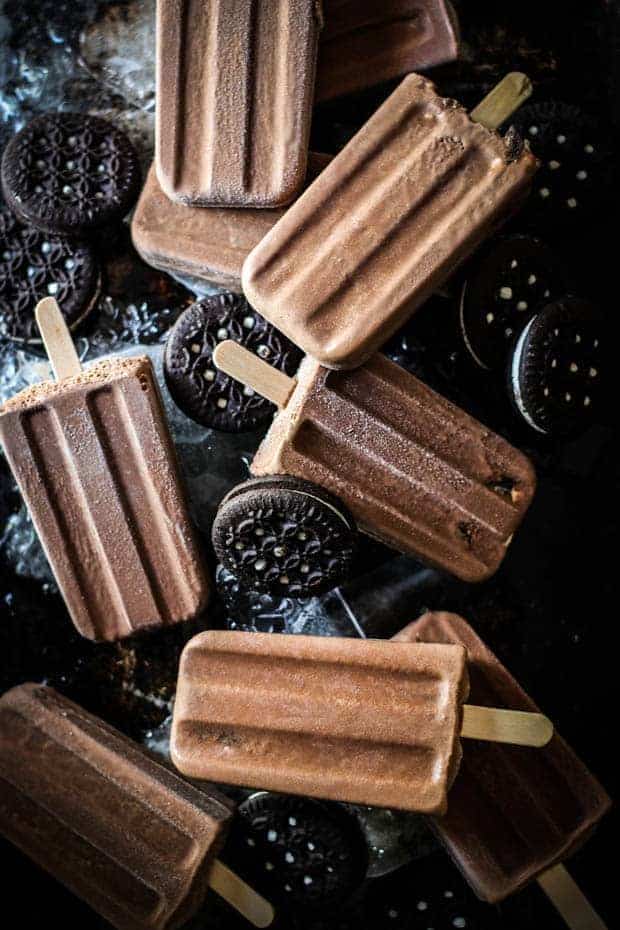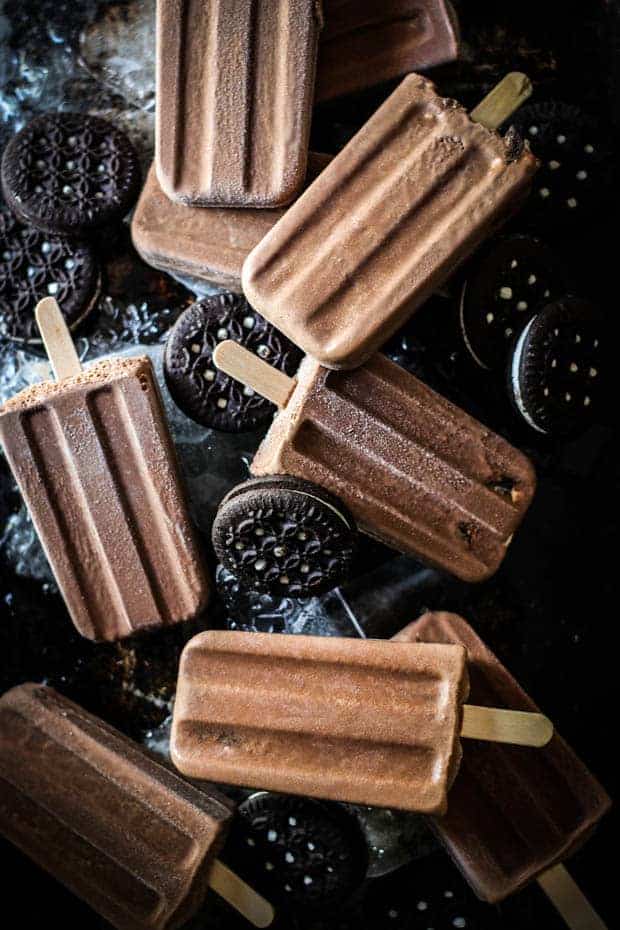 There aren't a whole lotta foods these days that can teleport me back to my childhood, but friend – this 5-ingredient fudgesicle sure can!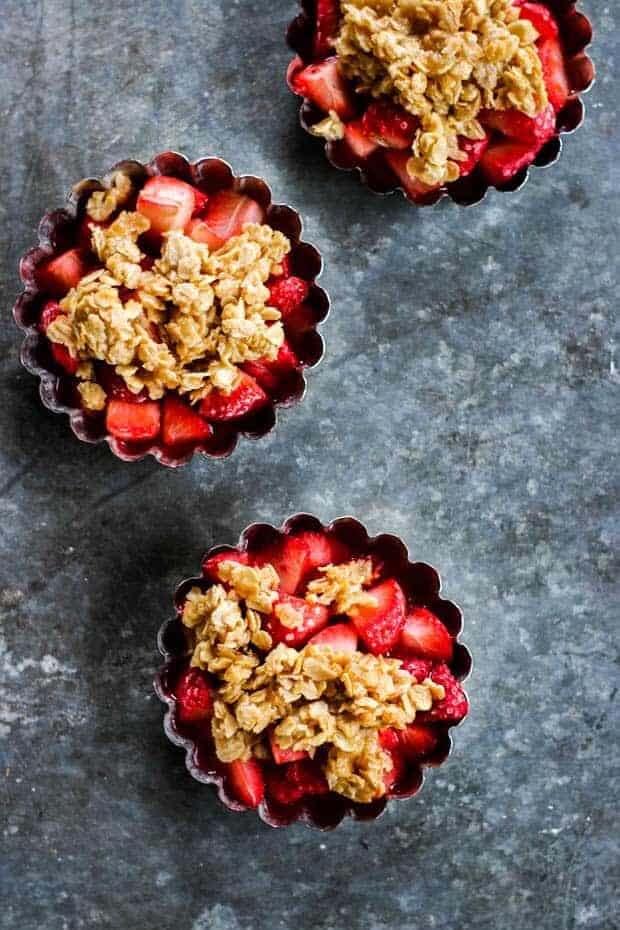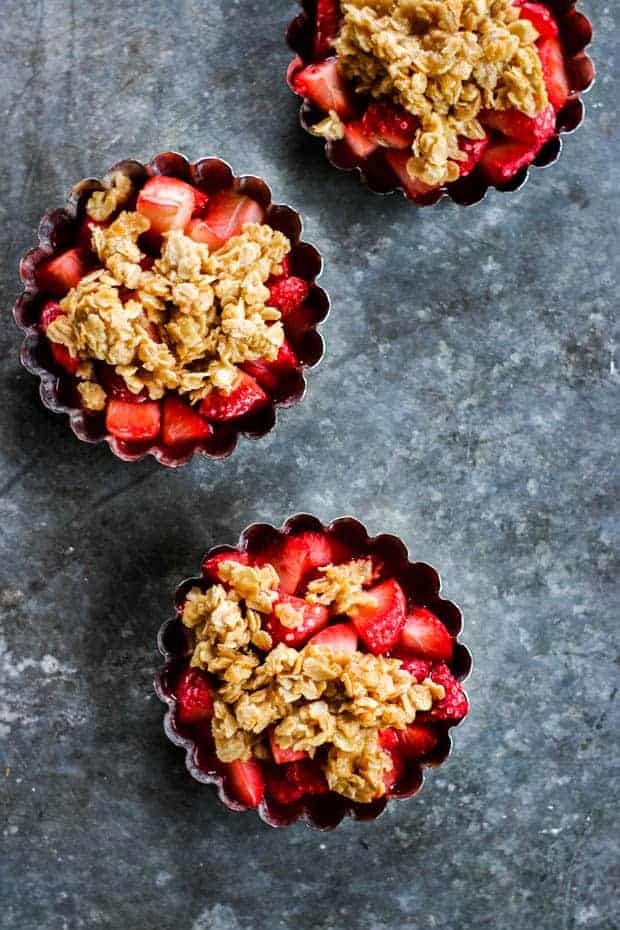 These strawberry crisps taste just like the ones my grandmother used to make when we would visit in the summer!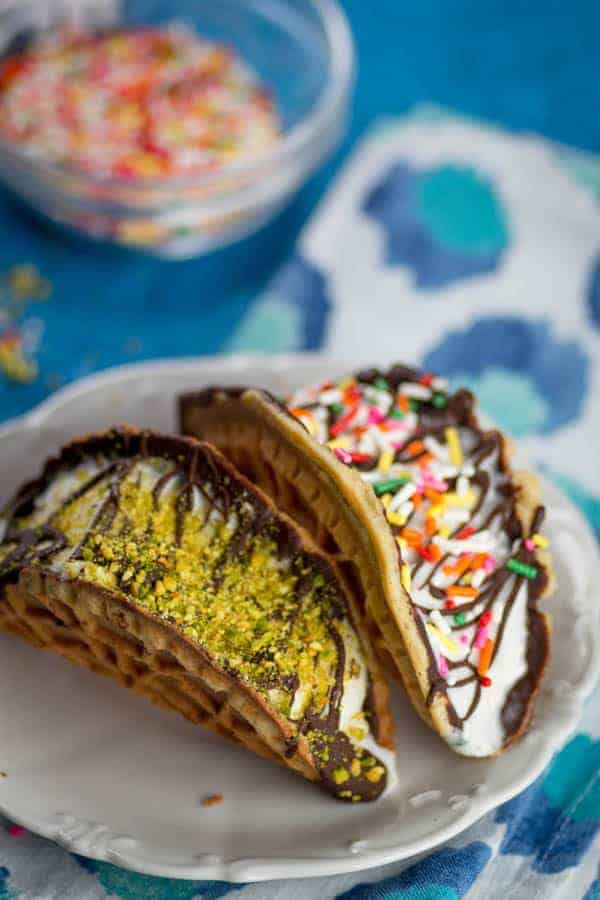 Hands down my favorite childhood treat reimagined, the choco taco! This bad boy uses pizelle cookies as the "taco shells" and they are DELSH!!
If you've made this Homemade Pop Tarts recipe I would be so grateful if you would rate the recipe and let me know what you think in the comments below!
Print
Gluten Free Homemade Pop Tarts recipe
Don't forget to rate the recipe with a STAR rating and let me know what you think about this Homemade Pop Tarts recipe in the comments below. I just love hearing from you. Your reviews/comments really help other people that visit This Mess is Ours!
Author:
Prep Time:

1 hour 40 mins

Cook Time:

10 mins

Total Time:

1 hour 50 mins

Yield:

8

servings

1

x
Category:

Sweets

Method:

Baked

Cuisine:

Breakfast

Diet:

Gluten Free
For the crust:
2 ¼ cups

all-purpose gluten-free flour, plus more for sprinkling

¼ cup

cornstarch

¼ teaspoon

salt

¾ cup

granulated sugar

8 tablespoons

unsalted butter, melted and cooled

1 teaspoon

pure vanilla extract

1

egg at room temperature, beaten

4

–

6

tablespoons milk, room temperature
For the filling:
¾ cup

sugar free, seedless strawberry jam or jelly
For the glaze:
1 cup

confectioners' sugar

1 ½ tablespoons

 sugar free, seedless strawberry jam or jelly

2 tablespoons

whole milk or cream
Multicolored gluten-free sprinkles for decorating
Instructions
For the crust
Preheat the oven to 350°F. Line a large rimmed baking sheet with unbleached parchment paper and set it aside.
In a large bowl, whisk the flour, cornstarch, salt and sugar to combine well.
Create a well in the center of the dry ingredients, and add the butter, vanilla, egg and milk, mixing to combine. The dough will be thick. Knead the dough with your hands until it's smooth, adding more milk by the half-teaspoonful as necessary to bring the dough together.
Place the dough on a lightly-floured surface and dust it lightly with flour to prevent the dough from sticking to the rolling pin. Roll out the dough to ¼ inches thick and slice it into 3 x 5-inch rectangles. If the dough becomes difficult to handle at any point, wrap it in plastic wrap and place it in the freezer to chill briefly.
Place 1 tablespoon of strawberry jelly on the center of half of the rectangles of dough, and spread it into an even layer, leaving a ¾-inch border clean around the edges of the rectangle. Cover with the remaining rectangles of dough and press all around the clean edge to seal with a fork. Using a sharp knife cut off about ½-inch of dough around all sides of the pastry.
Place the pastries 2-inches apart from one another on the prepared baking sheet. Dock the pastries by piercing them randomly on top to create vents.
Place the baking sheet in the center of the preheated oven and bake until the pastries are very lightly golden brown around the edges and just set in the center, about 8 minutes. Sometimes with gluten free flour the pastry will brown underneath before it browns on top, so keep an eye on the bottoms of the pop tarts.
Remove the pastries from the oven and allow them to cool on the baking sheet for 10 minutes before transferring to a wire rack to cool completely.
For the glaze:
 In a medium-sized bowl, whisk the confectioners' sugar, jam, and milk/cream together adding more liquid or powdered sugar as necessary to create a thick, but pourable glaze. Refer to image sin post to see the proper consistency.
Spread the glaze thickly on top of each cooled pastry and sprinkle them lightly with sprinkles. Allow the pop tarts to sit at room temperature until the icing sets completely. This can take a half hour or more. 
Tips for storing homemade pop tarts
The finished pastries can be stored in a single layer inside of a sealed glass container at room temperature and should maintain their texture for at least 3 days. For longer storage, wrap them individually in freezer-safe wrap, and freeze them for up to 2 months. Defrost the pastries at room temperature or unwrap and defrost them in the toaster.
Notes
While there are 4 pop tarts in this recipe, we find that they are so rich we can really only eat half of one at a time which is why we set the recipe serving size to 8. 
I've tested this recipe with lots of different types of gluten free flours, but the one that was the most noticeably different for me was Pamela's. If using Pamela's products all purpose flour you will need to make sure you use the scoop and sweep method of filling your measuring cups. Simply spoon four into the measuring cup until overflowing, sweep across the tp to remove excess. You will also need to increase the milk in the pastry dough to  7 tablespoons. 
Nutrition
Serving Size:

½ pop tart

Calories:

442

Sugar:

43.5 g

Sodium:

88.8 mg

Fat:

12.2 g

Carbohydrates:

85.2 g

Protein:

3.6 g

Cholesterol:

54 mg
Keywords: gluten free pop tarts. homemade pop tart, pop tart recipe, strawberry pop tart recipe
Recipe Card powered by
I just love hearing from you! Your reviews and comments really help others that visit This Mess is Ours. Want to be a part of our online community outside of the blog? It's easy!! All you have to do is follow @THISMESSISOURS on FACEBOOK, INSTAGRAM, TWITTER, YOUTUBE, or PINTEREST to see cooking demos, and peeks into our day to day life.
Check out some of our favorite pop tart recipes from around the internet!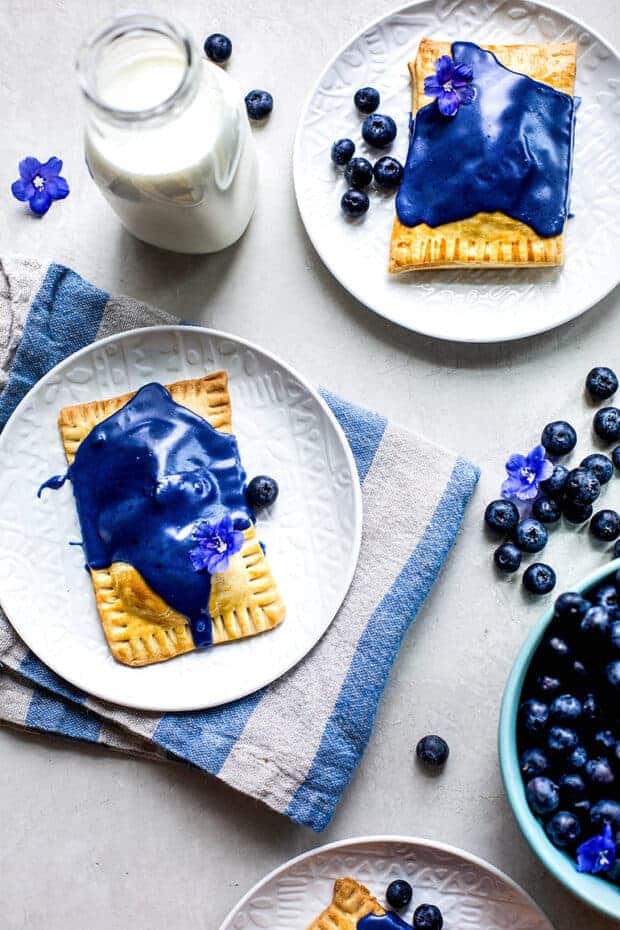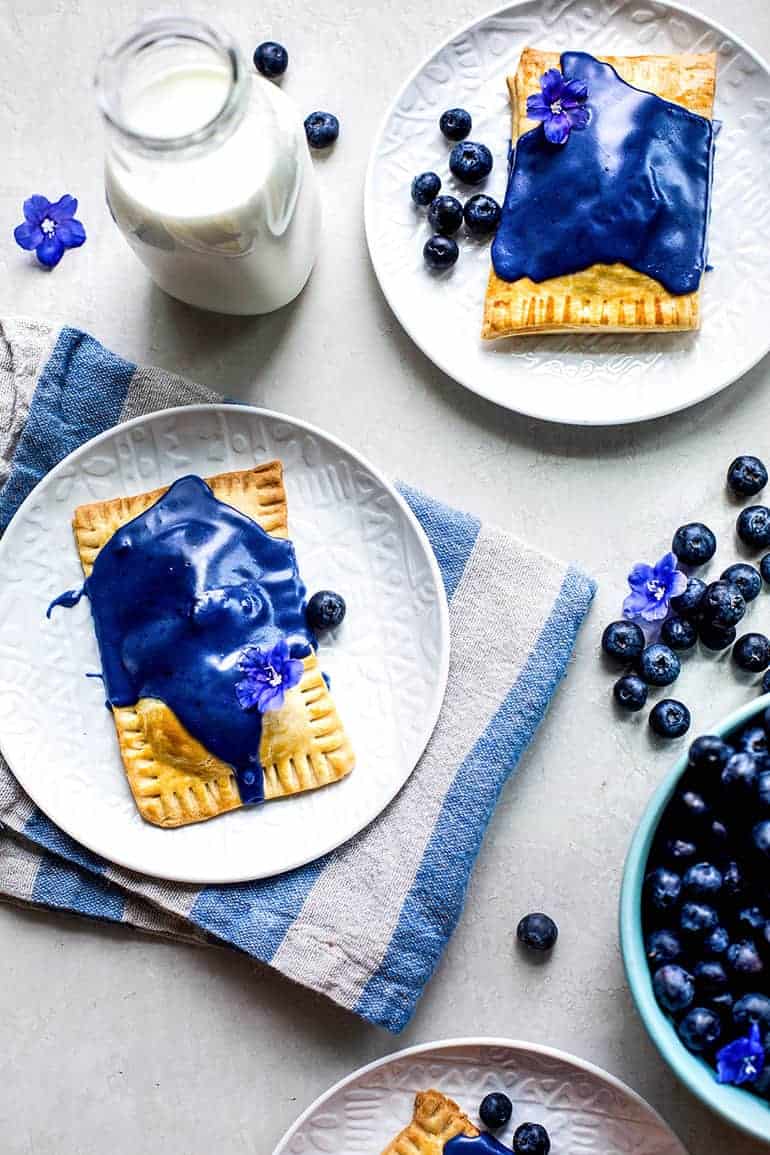 These blueberry pop tarts from NoshandNourish.com are vibrant, delicious, & easily customizable if you need them to be gluten free! The blueberry chia jam filling and butterfly pea powder tinted icing are both vibrant and delicious!