Pop-tarts…one of the few junk foods that I can honestly say without any shame that I really DO miss since we transitioned to a gluten free diet. I know, I know – the original boxed version that you buy in the store isn't good for you, it's more of a dessert than a breakfast food, and it's chock full of things I can't pronounce, but they do have the ability to transport me back to my childhood in a single bite.
Seriously, when I walk down the breakfast aisle at the grocery and pass the Pop-tarts I instantly flashback to 1985 – I am in my feetie pajamas, laying on the orange shag carpet in our family room anxiously awaiting Saturday morning cartoons. All the while I am chowing down on as many Strawberry Pop-tart's as I can before my parents wake up. Of course, at some point in my nostalgic flashback inevitably my kids snap me back into reality and I realize Pop-tarts are no longer allowed which honestly leaves me feeling a bit bummed out.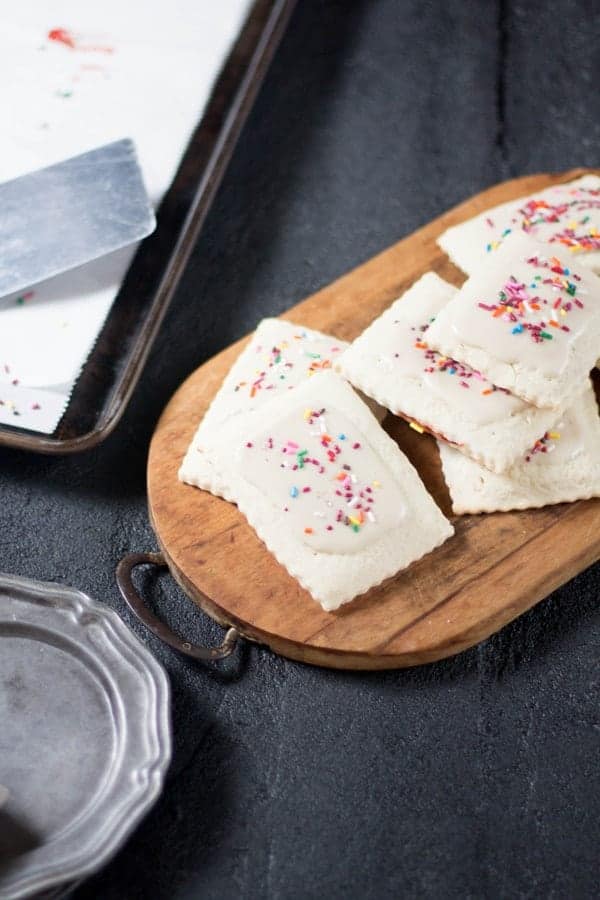 When I first learned that Nicole of Gluten Free on a Shoestring had written a book featuring ALL of my childhood favorites I knew I had to get my hands on a copy! I am such a huge fan of Nicole's site and all of her other books that I knew this one, Gluten-Free Classic Snacks, wouldn't disappoint and I also knew that there would be Pop-tarts!!!
As soon as the book arrived I dove in, flipping through 300+ pages of childhood food nostalgia. Girl Scout Cookies, Keebler Townhouse Crackers, Hostess Twinkies, Little Debbie Oatmeal Creme Pies, and just about every single candy bar a girl could ever wish for – they were all there just waiting for me to start baking.
Of course, Pop-tarts had to be first and all I can say is WHOA! Nicole, you have outdone yourself. I may have to quit my day job for a while so that I can cook my way through your book and relive all of my favorite childhood foods with my kids. Ok, so I won't quit blogging, but I do plan on baking more Classic Snacks in my free time.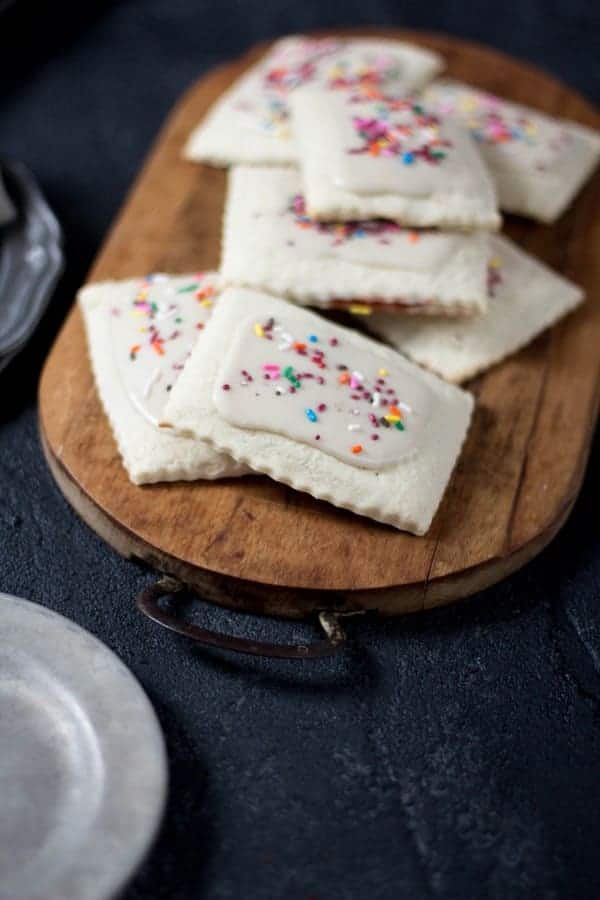 Print
Gluten Free Kellogg's Frosted Strawberry Pop-Tarts Toaster Pastries
Author:
Prep Time:

1 hour 40 mins

Cook Time:

10 mins

Total Time:

1 hour 50 mins

Yield:

12

1

x
Scale
Ingredients
For the crust:
2 ¼ cups

all-purpose gluten-free flour, plus more for sprinkling

¼ cup

cornstarch

¼ teaspoon

salt

¾ cup

granulated sugar

8 tablespoons

unsalted butter, melted and cooled

1 teaspoon

pure vanilla extract

1

egg at room temperature, beaten

4

–

6

tablespoons milk, room temperature
For the filling:
¾ cup

seedless strawberry jam or jelly
For the glaze:
2 cups

confectioners' sugar

1 tablespoon

lukewarm water, plus more by the half-teaspoonful
Multicolored gluten-free nonpareils for sprinkling
Instructions
For the crust: Preheat the oven to 350°F. Line a large rimmed baking sheet with unbleached parchment paper and set it aside.
In a large bowl, whisk the flour, cornstarch, salt and sugar to combine well.
Create a well in the center of the dry ingredients, and add the butter, vanilla, egg and milk, mixing to combine after each addition. The dough will be thick. Knead the dough with your hands until it's smooth, adding more milk by the half-teaspoonful as necessary to bring the dough together.
Place the dough on a lightly-floured surface and dust it lightly with flour to prevent the dough from sticking to the rolling pin. Roll out the dough to ¼ inches thick and slice it into 3 ½ x 4 ½-inch rectangles (there should be at least twenty four rectangles). If the dough becomes difficult to handle at any point, wrap it in plastic wrap and place it in the freezer to chill briefly.
Place 1 tablespoon of strawberry jelly on the center of the half rectangles of dough, and spread it into an even layer, leaving a ¾-inch border clean on all sides of the rectangle. Cover with the remaining rectangles of dough and press all around the clean edge to seal. Using a sharp knife, pastry or pasta wheel, cut off about ½ inch of dough around all sides of the pastry. Place the pastries 2 inches apart from one another on the prepared baking sheet. Dock the pastries by piercing them randomly on top with a toothpick or wooden skewer. Place the baking sheet in the center of the preheated oven and bake until the pastries are very lightly golden brown around the edges and just set in the center, about 8 minutes.
Remove the pastries from the oven and allow them to cool on the baking sheet for 10 minutes before transferring to the wire rack to cool completely.
For the glaze: In a medium-sized bowl, mix the confectioners' sugar and 1 tablespoon of the water until a thick paste forms. Add more water by the half-teaspoonful as necessary to create a thickly pourable glaze. Spread the glaze thickly on top of each cooled pastry and sprinkle them lightly with nonpareils. Allow them to set at room temperature before serving.
The finished pastries can be stored in a sealed glass container at room temperature and should maintain their texture for at least 3 days. For longer storage, wrap them individually in freezer-safe wrap, and freeze them for up to 2 months. Defrost the pastries at room temperature or unwrap and defrost them in the toaster.
Notes
Recipe published on B&B with permission from Nicole Hunn and Da Capo Press | Lifelong Books
Recipe Card powered by
I am a participant in the Amazon Services LLC Associates Program, an affiliate advertising program designed to provide a way for sites to earn advertising fees by advertising and linking to amazon.com. This means if you make a purchase using these links above – your cost remains the same, but I earn a small percentage to help support this blog. Thank you so much for your support!
(Visited 25 times, 25 visits today)