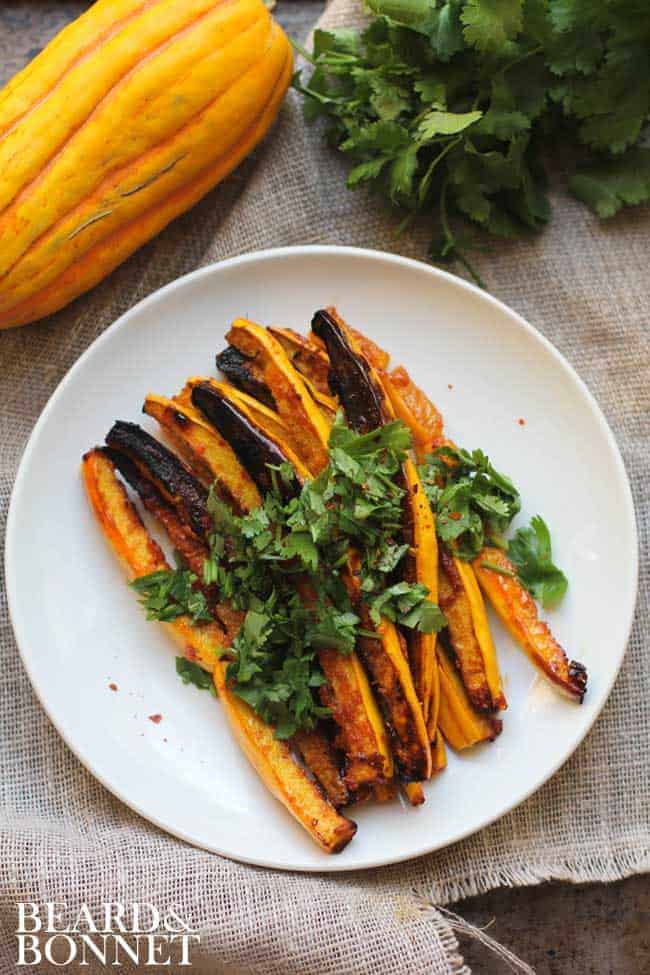 Out of all of the varieties of squash available throughout the year delicata squash is my absolute favorite. When it comes into season in the fall I literally stalk the produce aisle for it. This year it was only a few weeks before all of the beautiful delicata's were gone. By far it was the shortest season I have ever seen...or maybe more people have caught on to the deliciousness that is the delicata squash. Whatever the case may be, I was really bummed to see it go and definitely did not eat enough of it to get my fill until next fall.
Imagine my surprise last week when I was hunting shallots at Whole Foods and found a secret stash of delicatas hiding under the onion bin on the shelves near the floor. I squealed out loud in nerdy delight at the bounty of squash hidden down on that shelf almost as loudly as I squeal when I find money in my pocket that I had forgotten about. I bought my weight in them and then I headed home and made these miso and red curry glazed delicata squash fries.
I have been day dreaming about creating these fries ever since I made my Curried Delicata Squash with Broccoli and Cashews as a part of our Thanksgiving dinner with the last delicata squash I could find in Long Beach. So you can imagine how much I had built these up in my head over the last 2 months. They were everything I had imagined that they would be and then some! The miso curry glaze caramelized on the squash fries making them crispy and slightly sweet. I especially enjoyed the extra burst of flavor from the fresh cilantro and the twinge of heat from the red chile flakes.
I know it may be hard for you to find them right now, but maybe if you are willing to hunt a little your grocery store just might have a secret stash of them too! Of course, if you can't find them you can always pin them for next fall's delicata squash season.
What type of squash variety is your favorite?
Print
Miso and Red Curry Glazed Delicata Squash Fries (Gluten Free and Vegan)
Author:
Yield:

4

as a side dish

1

x
1

large delicata squash or

2

small; cut in half, seeds and strings removed, then cut into long thin fries

¼ cup

olive oil, plus 2 tablespoons for the sheet pan

¼ cup

white miso

1 tablespoon

Thai red curry paste
Juice of half of 1 large lemon

¼ cup

fresh cilantro, chopped

1 teaspoon

red chile flakes, optional
Instructions
Preheat the oven to 500°F with an empty sheet pan large enough for your squash fries on the middle rack.
In a large mixing bowl combine ¼ cup olive oil, white miso, red curry paste, and lemon juice. Mix well with a whisk to combine. Add the squash fries to the bowl and gently toss the squash in the sauce with your hands making sure that all of the squash is covered. *You may have some of the glaze left over that you didn't need depending on the size of your squash fries, discard any extra glaze.
When the oven is preheated, pour the remaining 2 tablespoons olive oil onto the hot baking pan followed by the glazed squash fries. *The pan is very hot and the oil will splatter once the squash has been added, be careful. Arrange the fries in an even layer, place the pan back in the oven and reduce the temperature to 425°F.
Bake the fries for 15-25 minutes depending on the thickness of your fries, flipping the fries over once with a spatula during the cook time.
Garnish with cilantro and red chile flakes.
Notes
The American Miso Company makes several varieties of miso under the Miso Master brand. All are organic and many are gluten free, including chickpea (also soy free), brown rice, red miso, mellow white and sweet white.
Recipe Card powered by