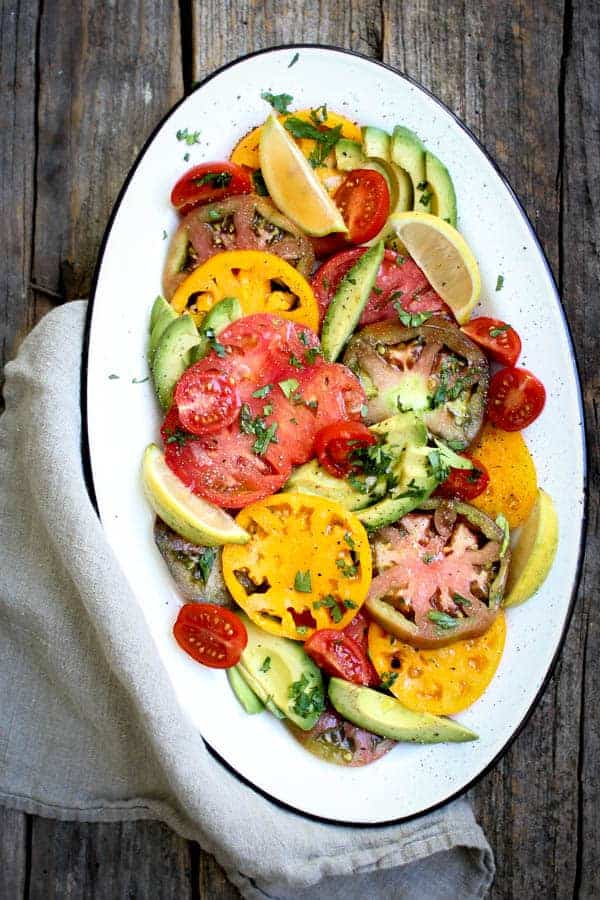 As far back as I can remember every summer cookout and southern BBQ I have ever attended was always brimming with platters of fresh vine ripened tomatoes. It seemed like every backyard gardener and farmer in my family tree had their own strain of heirloom seeds that they swore by for producing picture perfect tomatoes and their methods for planting and tending varied just as much. While their discussions over the proper way to tend to their tomatoes could get heated one thing they always agreed upon was the best way to eat them and that was simply seasoned with a little oil, salt, and pepper.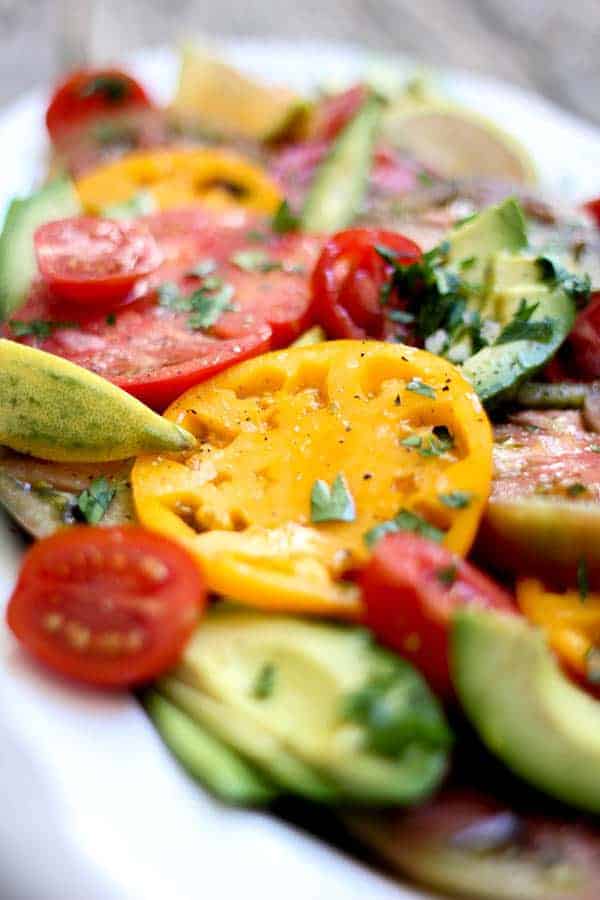 While I don't have a green thumb and have never yielded a bumper crop of beautiful tomatoes I did learn a thing or two from my relatives about serving them. Today I am teaming up with a fabulous group of bloggers inspired by Saghar of the blog Lab Noon to share our favorite potluck inspired recipes for a virtual midsummer potluck for peace.
The state of the world today seems to be more heated than ever. Everyone has their own opinion about politics and religion, which used to be what made this world we live in great, but now it seems it is what divides us the most. While I tend to stray from political or religious conversations here on This Mess Is Ours, I feel like there is one common thread that unites us all and that is food. So, today we're celebrating our cultural differences and preferences and partaking in a potluck filled with a variety of the ethnic flavors and traditions that make us all uniquely individual.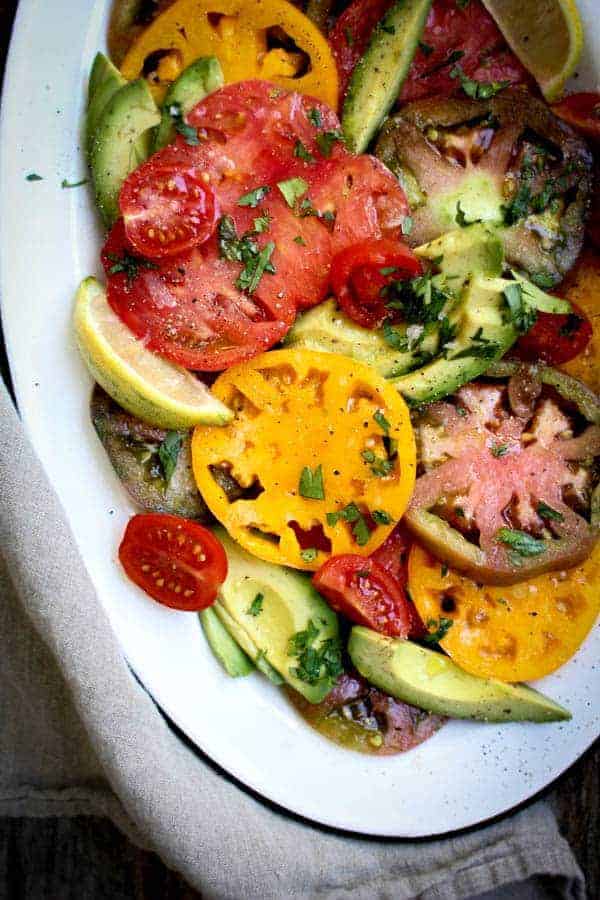 I'm bringing a simple tomato salad similar to the one that my relatives served at our family reunion when I was young, but I am dressing it up with a little west coast flair and adding slices of fresh avocado and herbs. Although, it is slightly different than my grandmother would have served I think she would approve of my modern spin on her classic summer dish.
Check out all of the other delicious recipes in today's virtual midsummer potluck for peace!
Adventures in Cooking: Strawberry rhubarb pie ice cream sandwiches
An Edible Mosaic: Middle Eastern Spiced Green Beans with Olive Oil and Tomato
Brewing Happiness: Healthy Southern Baked Beans
Cloudy Kitchen: Earl Grey blueberry pie
Cook Til Delicious: Cold Sesame Peanut Noodles
Delicious Not Gorgeous: No Mai Fan
DisplacedHousewife: Strawberry Scone-Cakes With Fresh Orange Blossom Whipped Cream
Donuts, dresses and dirt: Tahini Pavlovas
Floating Kitchen: Blistered Green Beans with Apricots and Chive Blossoms
Ginger & Toasted Sesame: Walnut Bread with Boursin and Prosciutto
Harvest and Honey: Chasing Summer (drink)
Hortus Cuisine: Panino with Roasted Peppers, Pesto & Arugula
On The Plate: Sriracha Scotch Eggs
Ruby Josephine: Halwa d'Tmar (Moroccan Date-Stuffed Cookies)
Tasty Seasons: Grilled Mojito Chicken
Tending the Table: Roasted Cauliflower with Pine Nuts, Parsley and Currants
TermiNatetor Kitchen: Strawberry Shortcakes with Gluten-Free Yogurt Biscuits & Mint Whipped Cream
The Little Epicurean: Halo-Halo (Filipino Shave Ice Dessert)
This Mess Is Ours: Simple Tomato & Avocado Salad
Twigg studios: roasted beet leek and feta quiche
Vermilion Roots: Tofu Salad with Spiced Peanut Sauce
Wood and Spoon: Strawberry Almond Skillet Cake
Print
Simple Tomato and Avocado Salad
Author:
Prep Time:

5 mins

Total Time:

5 mins

Yield:

4

-

6

servings

1

x
Scale
Ingredients
1

pound heirloom tomatoes, different sizes, colors, and varieties

1

avocado, pit removed, peeled and sliced thin
juice of

half a

lemon

1 tablespoon

extra virgin olive oil

1 tablespoon

finely chopped fresh herbs, any herbs you have on hand will work. I used parsley, mint and cilantro
Maldon salt and freshly cracked black pepper
Instructions
Slice the tomatoes into various sizes and shapes. Arrange on a serving platter. Place the slices of avocado on the platter tucking them in around the tomatoes.
Drizzle with lemon juice and olive oil then sprinkle the fresh herbs, Maldon salt, and black pepper over top. Serve immediately.
Recipe Card powered by
SaveSave
SaveSave
(Visited 43 times, 43 visits today)