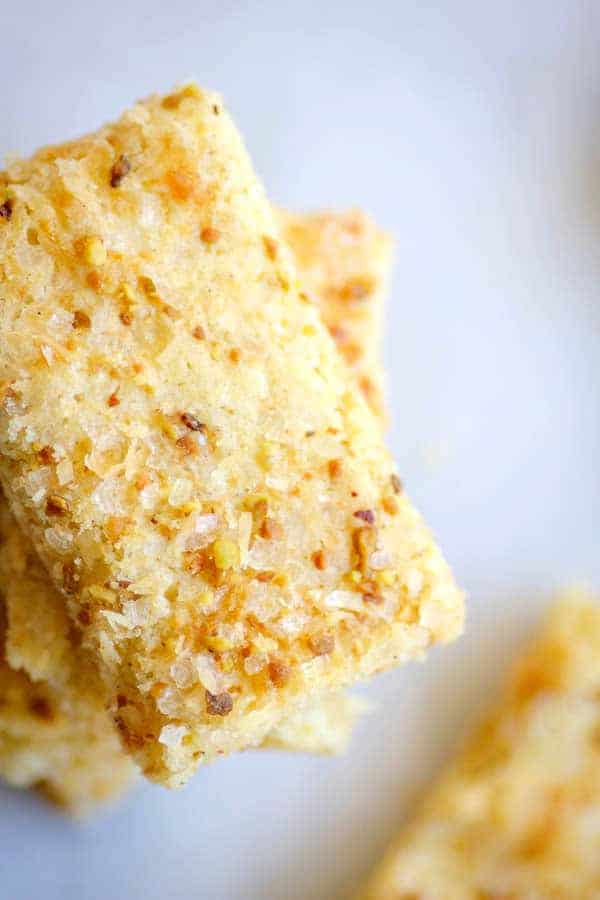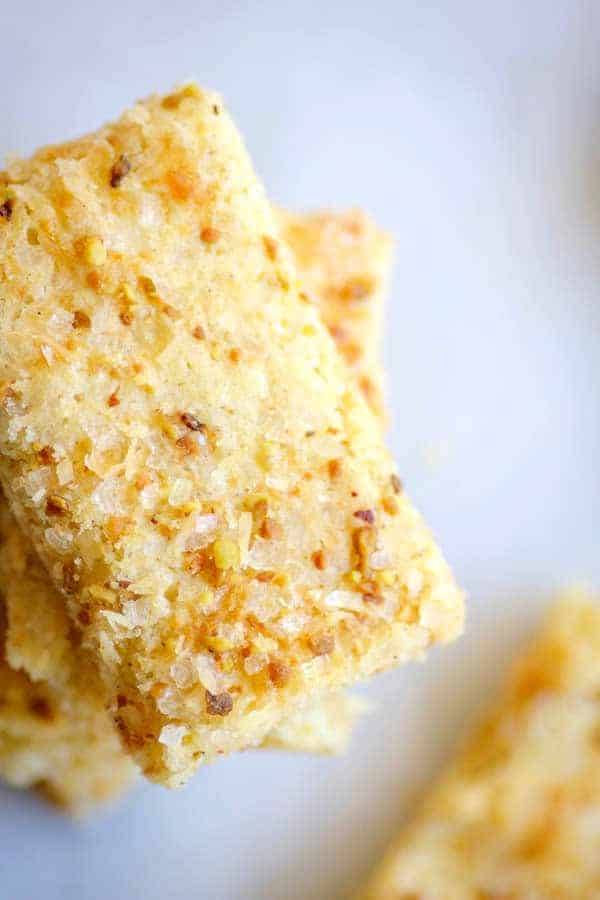 I have a thing for really delicate cookies - I sort of obsess over them and these Sweet Citrus and Pistachio Cardamom are exactly that! They are the perfect accompaniment to just about any holiday function although I highly suggest snacking on these with a mug full of Chai tea as you watch A Christmas Story, but hey do you want!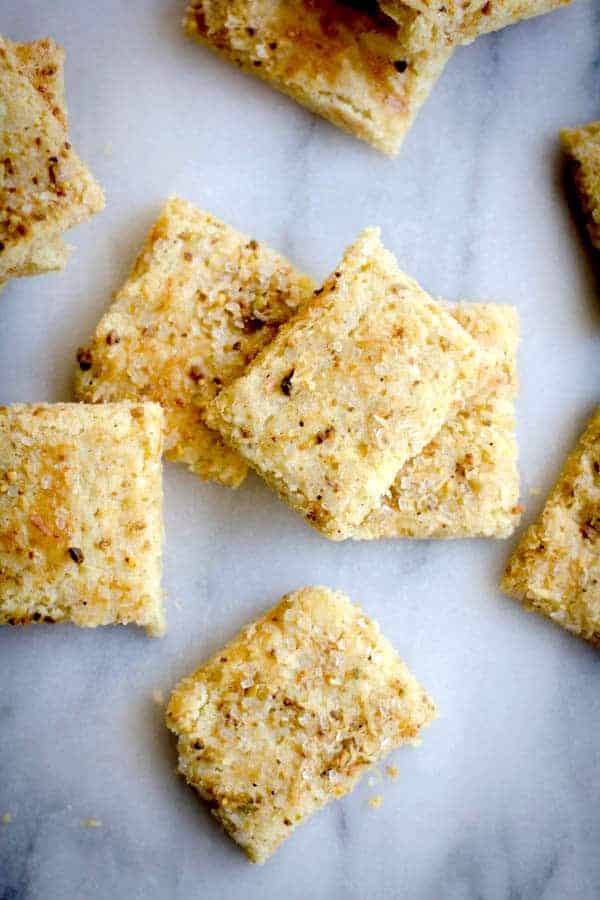 Our little Kash man says that these are his favorite cookies out of ALL of our 12 days of gluten free cookies recipes this year - I think it is probably because he was the one to sprinkle all of the toppings on, but the boy likes what he likes, so I just go with it. He ate the entire batch of pistachio cookies almost by himself!
These pistachio cookies are perfectly, imperfect, but once you taste one they are completely irresistible!
If you've tried this Sweet Citrus and Pistachio Cardamom Crisps Recipe, I would be so grateful if you would rate it. Let me know what you think in the comments below. I just love hearing from you, and your reviews and comments really help others that visit This Mess is Ours!
Print
Sweet Citrus and Pistachio Cardamom Crisps
No sparkling sugar on hand? Simply substitute it for granulated sugar. It won't have the beautiful crystals, but it will taste just as delicious! Don't be stressed out by the 2 hour & 8 minute prep time! Only 15 minutes is active time the rest of the time the dough is chilling in the refrigerator.
Don't forget to rate the recipe, and let me know what you think about these Sweet Citrus and Pistachio Cardamom Crisps in the comments below. I just love hearing from you. Your reviews/comments really help other people that visit This Mess is Ours!
Author:
Yield: approx

3

dozen

1

x
1 tablespoon

sparkling sugar

1 tablespoon

finely chopped pistachios

1 tablespoon

unsweetened shredded coconut

½ cup

granulated sugar

½ cup

(

1

stick ) unsalted butter, at room temperature

1 teaspoon

orange zest

1

large egg, separated; white lightly beaten

¼ teaspoon

pure vanilla extract

¼ teaspoon

pure orange extract

1 cup

ofCup 4 Cup gluten free all purpose flour, plus more for rolling

¾ teaspoon

ground cardamom

¼ teaspoon

kosher salt
Instructions
In a small bowl stir together the sparkling sugar, pistachios and coconut until combined. Set aside.
Place the butter, sugar and orange zest into the bowl of an electric mixer fitted with the paddle attachment. Mix on medium speed until combined. Add the egg yolk, vanilla and orange extracts; beat until pale and fluffy, about 2 minutes.
Reduce the speed to low and add the flour, cardamom and salt; mix until smooth.
Wrap the dough in plastic wrap and transfer to the refrigerator to chill for 2 hours until the dough is firm.
Preheat the oven to 350° F.
Transfer the dough to a nonstick baking mat, Silpat's work nicely. Sprinkle a small amount of flour over the dough and onto a rolling pin then gently begin to work the dough into a rectangle that is about ¼-inch thick. You may find that it is easier to work the dough with your hands in the beginning, then sprinkle with flour and roll lightly to smooth. This dough is very tacky, so be mindful to not put too much pressure onto the rolling pin or the dough will stick to it. Alternatively, you can place a sheet of wax paper over the top of the dough to roll it out.
Using a pizza wheel, score the dough into small squares that are 1 ½-2 inches in size. carefully transfer the baking mat to a sheet pan then brush with the beaten egg white and sprinkle with the pistachio mixture.
Bake for 12-14 minutes until the edges are pale golden brown. Remove from the oven and run the pizza wheel along the original cuts and place the sheet pan on a wire rack for 5 minutes to cool before transferring the crisps to the rack to cool completely. Cookies can be stored in an air tight container for up to 2 days.
Recipe Card powered by
Want to be a part of our online community outside of the blog? It's easy!! All you have to do is follow @THISMESSISOURS on FACEBOOK, INSTAGRAM, TWITTER, YOUTUBE, or PINTEREST to see cooking demos and peeks into our day to day life.
What are the health benefits of pistachios?
These low calorie edible seeds are packed full of healthy unsaturated fats, fiber, protein and numerous nutrients, especially Vitamin B6 and potassium. The high fiber and protein levels aid in weight loss and promote gut and heart health. Pistachios also help regulate blood sugar and cholesterol levels.
Click here for more information on the health benefits of pistachios.
Frequently Asked Questions