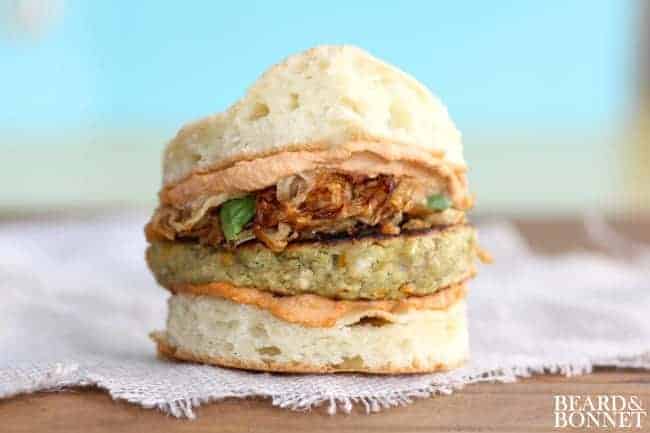 Have you noticed that I am a sucker for a sandwich? When Jeff Mauro won the Next Food Network Star and launched his show The Sandwich King, I swear I gave him a standing ovation in my living room. Todd looked at me like I was crazy, but I didn't care. Finally, someone had won that show that I could get behind and watch every week. Like a good viewer I set my Tivo and I even made a few of his dishes the first season, tweaked to fit our vegetarian diet of course. Then right as season 2 kicked off we found out about our son's gluten and dairy intolerance and just like that…my adoration for the Sandwich King turned into envy, maybe even a little bitterness. I couldn't bear to watch him devour all of the yummy, gluten-laden, cheesy sandwiches any longer. The mere thought of him dredging and breading a green tomato to fry for a Fried Green BLT almost made my head explode!
A few weeks into our new lifestyle I was really craving a sandwich so I decided to give making my own gluten-free bread a try. I had always enjoyed making fresh breads before, but I have to admit that I was intimidated by all of the new ingredients that I had never even heard of. My brain was on overload at Whole Foods trying to figure out what the heck I needed and what flours and leveners did what. Thoroughly frustrated, I wound up leaving with a box of King Arthur Flour gluten-free pizza dough mix. We had always trusted the King Arthur brand and the gluten-free muffin mix that Todd's mom had sent us was spectacular. How bad could the pizza dough be? I know it's not a sandwich bread like I had intended, but in my world pizza and sandwiches rank up there together on the yummy meter.
I immediately started prepping to make the dough when I arrived home. It sounded like a long process, but I was willing to give it a try. There were a few times when I thought that surely I had messed something up, like after the first rise when the dough was still a gloppy mess. I persevered though telling myself, "It's too late to turn back now!" and "I am not throwing a $7 mix in the trash can!" I slapped the runny dough into two half sheet pans crossed my fingers for the second rise to help stabilize the dough a bit. It didn't, my last hope was that for some strange reason it was supposed to be like this and that the time spent baking in the oven would make everything right. To my surprise and elation, it did!
We had the yummiest pizza that night, topped with dairy free cheese and loaded with roasted veggies, yum! Todd and I agreed that the crust tasted more like focaccia than pizza dough though. Which brings me to my recipe, I was looking to use the last of the pignoli pesto that I made earlier this week but was really craving a sandwich. I just happened to have a box of KA Flour pizza dough mix in the pantry and a fresh batch of sun-dried tomato cashew cream. It seemed like the perfect time to channel my inner Sandwich Queen and see what I could whip up. The cannellini and pesto patties are really good on their own with a side of veggies if you aren't feeling the whole sandwich thing, or you can substitute Udi's gluten-free hamburger buns if you don't have time to make your own focaccia.
Cannellini and Pesto Patties with Caramelized Onions
1/2 cup of gluten-free oats
1 15oz. can of cannellini beans
1 large egg
1/2 tsp. salt
1/2 tsp. dried oregano
1/4 cup orange bell pepper, diced small
1 tsp. lemon zest
1 Tbsp. pesto
1/4 cup mozzarella flavored rice shreds, soy cheese or regular mozzarella
2 large yellow onions, caramelized. Find out how easy it is to caramelize an onion here.
Pulse oats in your food processor 3-5 times to roughly chop then add in 3/4 of a can of drained and rinsed cannellini beans. Pulse and additional 5-6 times creating a chunky paste. Add in the egg, oregano and salt and blend in the processor until most of the large pieces are gone. You will be left with a thick paste that will act like the "glue" to your veggie patty.
In a medium-sized bowl, mix the remaining 1/4 can of drained and rinsed cannellini beans with the pesto, bell pepper, lemon zest, rice shreds and the mixture from the food processor then season with salt to taste. Wipe a little olive oil on a large plate and then with wet hands, form the bean mixture into patties and place on the plate. Don't worry if the batter seems runny! This batter is looser than my veggie burgers but will cook up just fine in the hot skillet . Once all of the cakes have been formed place the plate in the freezer for 10 minutes or in the fridge for at least 20 minutes so that the cakes can set.
Heat a cast iron skillet over med-high heat until screaming hot. Add 1 tablespoon of olive oil and swirl pan to coat. Cook the patties until a nice crispy crust has formed on the outside, about 3-4 minutes, then flip to cook the other side another 4-6 minutes.
Serve the bean patties with sun-dried tomato cashew cream and caramelized onions piled on top.
Gluten- Free Focaccia
1 box of King Arthur Flour gluten-free pizza dough mix
3 Tbsp. good quality olive oil
1 Tbsp. fresh rosemary, chopped
1 Tbsp. crushed red pepper
salt and pepper to taste
Prepare dough as instructed, after the first baking period remove pans from the oven and drizzle the focaccia with the olive oil and sprinkle with the herbs. Return the pan to the oven and bake for the second half of the bake time as instructed on the package.
Sun-Dried Tomato Cashew Cream
1.5 cups raw unsalted cashews
3/4 – 1 cup water (depending on how thick or thin you would like) plus more for soaking
juice of half a lemon (more if you like a real lemony flavor)
1/3 cup sun-dried tomatoes, with the oil drained
Salt to taste
Cover raw cashews with water and soak for 30 minutes to an hour. Drain and rinse cashews well and place all the ingredients in a high powered blender or food processor, blend until desired consistency. Your cashew cream will last in the refrigerator for 3-4 days and can be frozen for up to 6 months. If you choose to freeze it be sure to run it through the blender really quick after you defrost it to eliminate any lumps. This recipe makes 1.5- 2cups depending on the amount of water you add.
We are happy to have shared this post at the Gluten-Free Friday's link up party hosted by Vegetarian Mama, Eat.Live.Make, and Gluten Freed R.D.! Hop on over to find more great gf recipes.
(Visited 17 times, 17 visits today)