While I feel like I have a pretty firm handle on packing a healthy, delicious, and easy lunch idea, I totally struggle in the area of after school snacks! At least, I did struggle, until we started making these Easy Gluten Free Pasta Snack Jars to keep on hand in the fridge! These jars are all layered up with marinara, fresh mozzarella balls, and gluten free pasta that tastes great and doesn't loose its tender texture when cooled. Now you too can say "yes" to perfectly portioned, crave worthy, after school snacks that are actually good for your crew!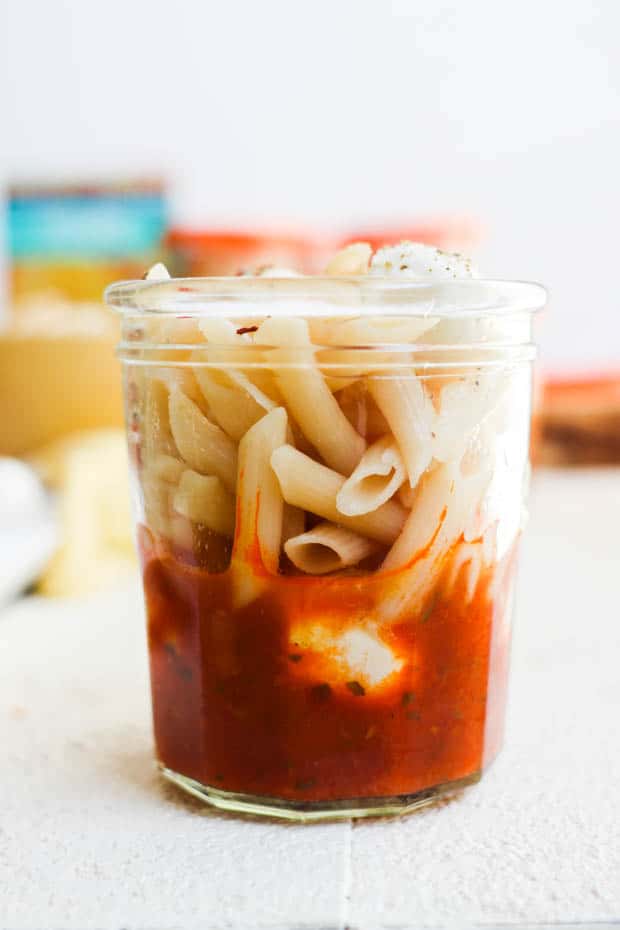 If there is one thing I know after 17 years of parenting it is that kids are typically hangry after a hard day at school!
My kids in particular can be downright ravenous by the time we get home. I want to feed them something that curbs their hanger, but I also don't want to ruin their appetites for dinner. Sound familiar to you too? Geez, I'm glad I'm not in this alone!
For as far back as I can remember we have had a self service snack station in our pantry for afternoon noshing. Grab n' go granola bars, apple sauce packets, chips, and fruit snacks - they're all favorites with my kids, but they don't fill them up enough so they wind up eating more than I would like for them too. Which not only sets them up for not being hungry for dinner, it's also super expensive to buy convenience snacks like those. Don't even get me started on the sugar crash that is often associated with those goodies either!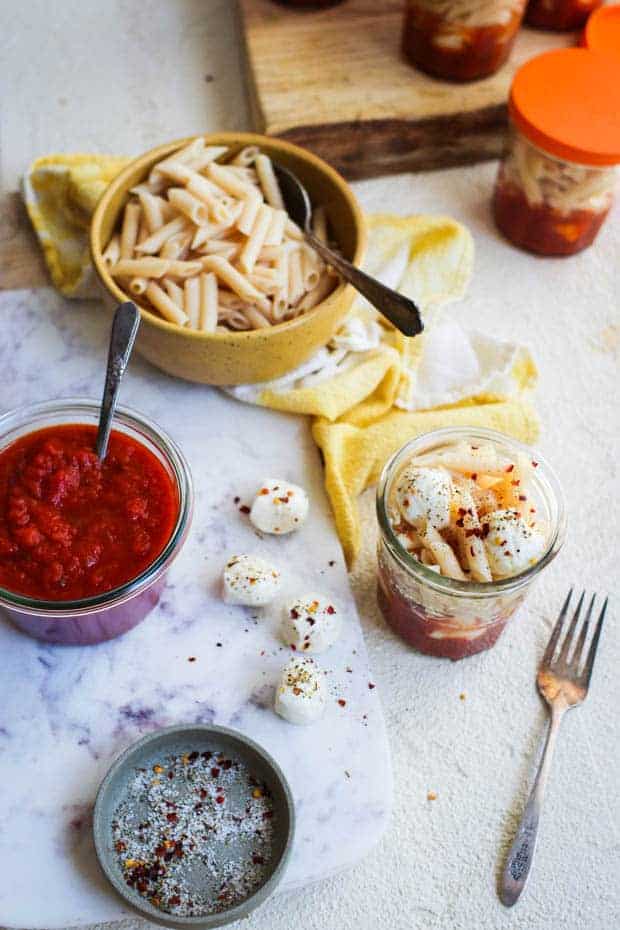 So, a few weeks ago I decided to swap it up and see what would happen if I added a new, homemade grab 'n go snack option to the mix. Say hello to my
Easy Gluten Free Pasta Snack Jars

!

I mean, what's not to love? I've never met anyone that says no to spaghetti, especially not my kids! So, I made a stash of these babies big batch style to stock the fridge, told my kid's all about them and how to heat them up, and then I waited...... I'm happy to report that it didn't take long to see that these little jars were a HUGE hit! They have the perfect portion of sauce, pasta, & cheese to comfortably fill my kid's bellies without ruining their dinner. ( Plus, no sugar crash later either!) They're also a great easy lunch idea for the weekends.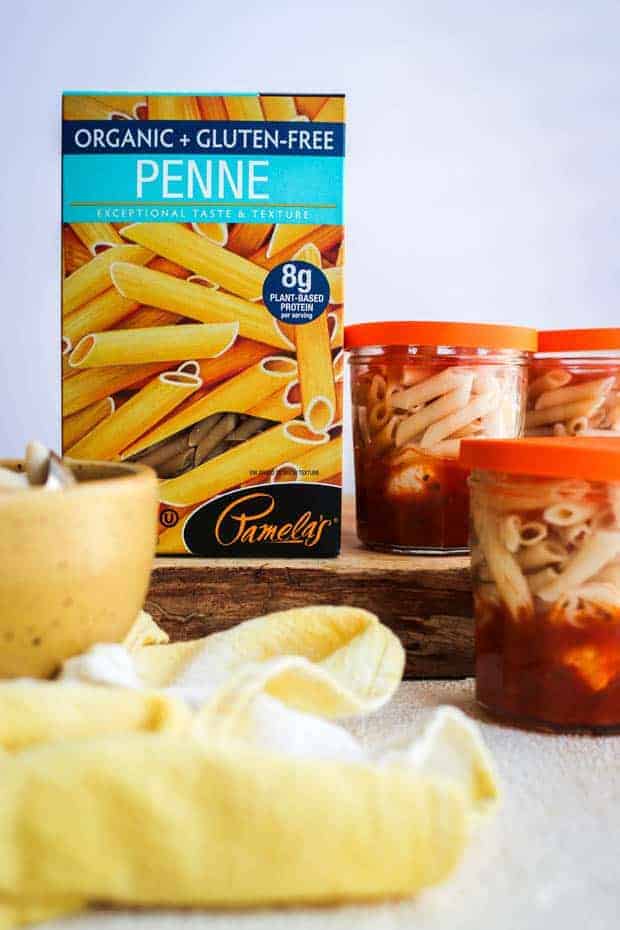 Let's talk about how I layered these 
Easy Gluten Free Pasta Snack Jars 

shall we?

The jars || Honestly, any small jar or meal prep container will work for this or any easy lunch idea. I chose these small 11-ounce Le Parfait Jam Pot's because I  liked the snap on lid design for Kash. However, if I was using these jars for anything else outside of him accessing their contents for a snack I would prefer to use metal twist on lids. They're just more secure!

The sauce || You can literally use ANY sauce your heart desires in these easy gluten free pasta snack jars - in the images I just used plain old jarred pasta sauce. But, I have since made versions of these with my easy 5-ingredient marinara and with pesto and both were BIG hits too!!

The cheese || Again, you can literally use ANY cheese your heart desires here. I like to use small bocconcini which is just itty biity mozzarella balls because they're super delicious and fun to eat, but hey, if you want mozzarella shreds or goat cheese crumbles or vegan parm, you do you!

The pasta || I know what you're thinking - you're thinking surely this easy lunch idea can't be gluten free because leftover gluten free pasta is typically anything but delicious. I HEAR YOU!!! This gluten free pasta however my friend is from Pamela's and it is the only brand of gluten free pasta that I have found can be cooled after cooking and it will keep its soft texture without drying out. Which means you can say "Yes!" to cold pasta salads and reheating your favorite noodles without fear!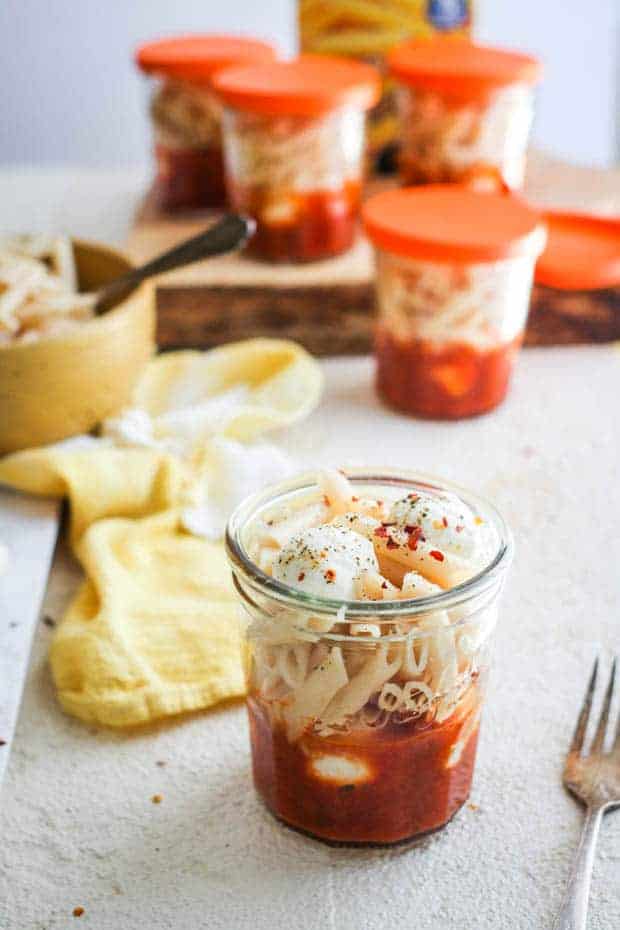 Kash loves these pasta snacking jars after school or for an easy lunch idea on the weekend. He'll eat them both hot or cold and I have to admit it's super cool to see him stop by the fridge to check if these are waiting on him before he heads to the "grab n go" snack station!
Here's how he heats the jars up || Pour the contents of the jars into a small bowl, give it a big stir, and microwave in 15-20 second intervals, stirring in between each cook time, until warmed through.
If you've tried this Easy Gluten Free Pasta Snack Jars Recipe, I would be so grateful if you would rate it. Let me know what you think in the comments below. I just love hearing from you, and your reviews and comments really help others that visit This Mess is Ours!
Print
Easy Gluten Free Pasta Snack Jars
Mix and match these pasta jars by using your favorite pasta shapes, sauces, and cheeses. Add meat, add veggies...add dried herbs..add whatever your little one's heart desires!
Don't forget to rate the recipe, and let me know what you think about this Easy Gluten Free Pasta Snack Jars in the comments below. I just love hearing from you. Your reviews/comments really help other people that visit This Mess is Ours!
Author:
Prep Time:

10 minutes

Cook Time:

10 minutes

Total Time:

20 minutes

Yield:

about 5 jars

Category:

lunch/snacks

Method:

stovetop

Cuisine:

italian
5 bocconcini per jar or 2-3 tablespoons shredded cheese
To season: salt, pepper, red pepper flakes
Instructions
To assemble || Line up empty jars on the kitchen counter. Scoop about ⅓ cup pasta sauce into the bottom of each jar. Add the cheese in an even layer. Fill to about ¼ inch from the top of the jar with the prepared pasta. Add a few more pieces of cheese and season with salt, pepper, and red pepper flakes. Seal the jars and store in the fridge for up to 4 days.
To reheat || Pour the contents of the jars into a microwavable bowl, give it a big stir, and microwave in 15-20 second intervals, stirring in between each cook time, until warmed through.
Nutrition
Serving Size:

1 jar

Calories:

118

Sugar:

4.2 g

Sodium:

515.4 mg

Fat:

1.8 g

Carbohydrates:

17.6 g

Protein:

9.4 g

Cholesterol:

5.7 mg
Recipe Card powered by
Want to be a part of our online community outside of the blog? It's easy!! All you have to do is follow @THISMESSISOURS on FACEBOOK, INSTAGRAM, TWITTER, YOUTUBE, or PINTEREST to see cooking demos and peeks into our day to day life.
What are the health benefits of bocconcini (mozzarella)?
Mozzarella is full of healthy bacteria that acts as probiotics, helping to strengthen your immune system. It's also low in calories and sodium, especially when compared to other cheeses.
Click here for more information on the health benefits of mozzarella.