Every year I eagerly wait for the arrival of asparagus in the spring- it's pretty much my favorite vegetable on the planet. Have you ever seen asparagus growing fresh in the garden? What a site! Eating it plucked straight from the earth might just have been one of my favorite culinary experiences ever.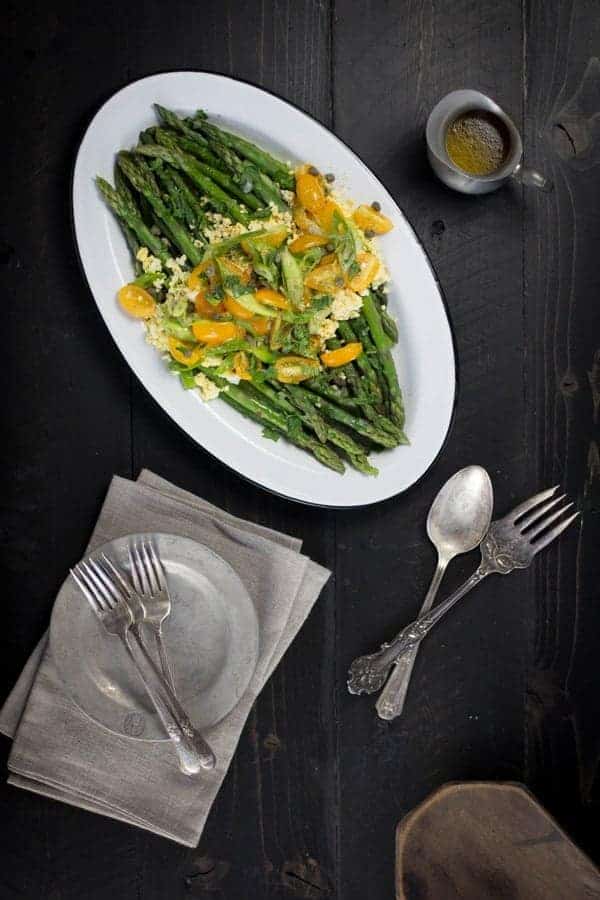 When we lived in Georgia my daughter and I had the pleasure of helping out from time to time in a dear friends organic garden - now, when I say garden you are probably picturing a small back yard plot. Not the case, their gardens were impressive - strategically planted over a few acres of land with the most beautiful turn of the century home springing up right in the center of a field of daffodils. Trails of hydrangea bushes as big as myself led the way to the edible garden that was bordered by bushes bursting with blueberries and raspberries, towering fig trees, and a 14-foot long patch of asparagus that was carefully roped off so you wouldn't accidentally step on it. It was by far the most beautiful garden I have ever seen!
Quite a few times I helped our friends weed the asparagus patch and it blew my mind to see individual asparagus stalks springing straight up out of the earth among the grass. I don't know how exactly I thought they grew, but I never imagined that they grew like that. One afternoon my friend walked over, snapped off a stalk of asparagus, and handed it to me to eat.
Asparagus plucked fresh from the earth is sweet and tender. It didn't even taste like the asparagus I love so much- it was better! All these years later and thousands of miles away every single time I pick up a bunch of asparagus I think about that moment in my friends garden. It was a small gesture and a tiny moment in time that made me appreciate the magic of my favorite vegetable even more.
[mc4wp_form id="7635"]
Print
Spring Asparagus Salad
Author:
Yield:

5

servings

1

x
1

bunch of asparagus

⅓ cup

halved cherry tomatoes

1

green onion, light green and dark green parts thinly sliced

2

heaping teaspoons capers, rinsed
zest of

1

lemon

2

hard boiled eggs, finely chopped

½ cup

olive oil

¼ cup

freshly squeezed lemon juice
pinch of red pepper flakes

⅛ teaspoon

garlic powder

½ teaspoon

salt

1 teaspoon

light agave
freshly ground black pepper to taste

1 tablespoon

finely minced flat leaf parsley
Instructions
Wash and prep asparagus by peeling the ends with a vegetable peeler and drop into a large pot of boiling water for 2-5 minutes depending on size, until the spears turn bright green. Transfer cooked spears to an ice bath to stop the cooking process. Once the spears have cooled remove them from the water and place on a paper towel lined plate.
Place halved tomatoes in a small bowl and sprinkle with salt to draw out the juices. Mix in the sliced green onions, capers, and all of the lemon zest. Set aside. In a separate small bowl mix chopped hard boiled eggs with a little salt and pepper to taste and a pinch of red pepper flakes for a little kick.
Combine olive oil, lemon juice, red pepper flakes, garlic powder, salt, agave, and pepper in a bowl and whisk until the dressing is combined. Once the mixture is combined add more salt and pepper to taste if necessary. Drizzle ¼ of the dressing over the asparagus and toss to coat completely. Transfer the rest of the dressing to a small bowl for serving at the table.
Place the dressed asparagus on a platter and sprinkle the seasoned hard boiled egg over the top, spoon tomato salad over the egg, and sprinkle parsley over the top.
You will have more than you need for this salad. The unused vinaigrette will keep in your refrigerator for a few days. Bring to room temp and whisk well before using.
Recipe Card powered by