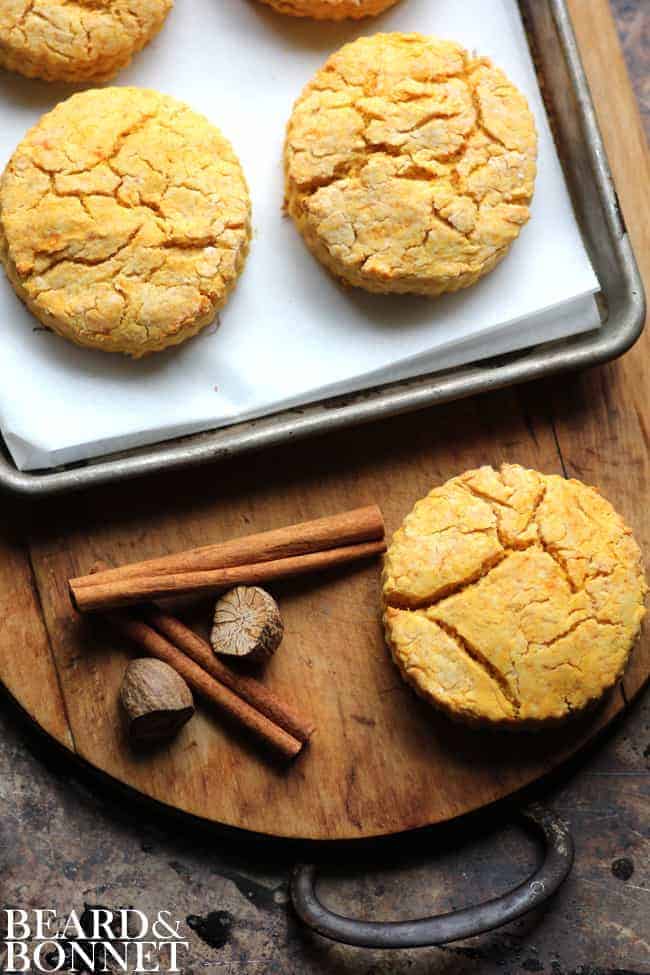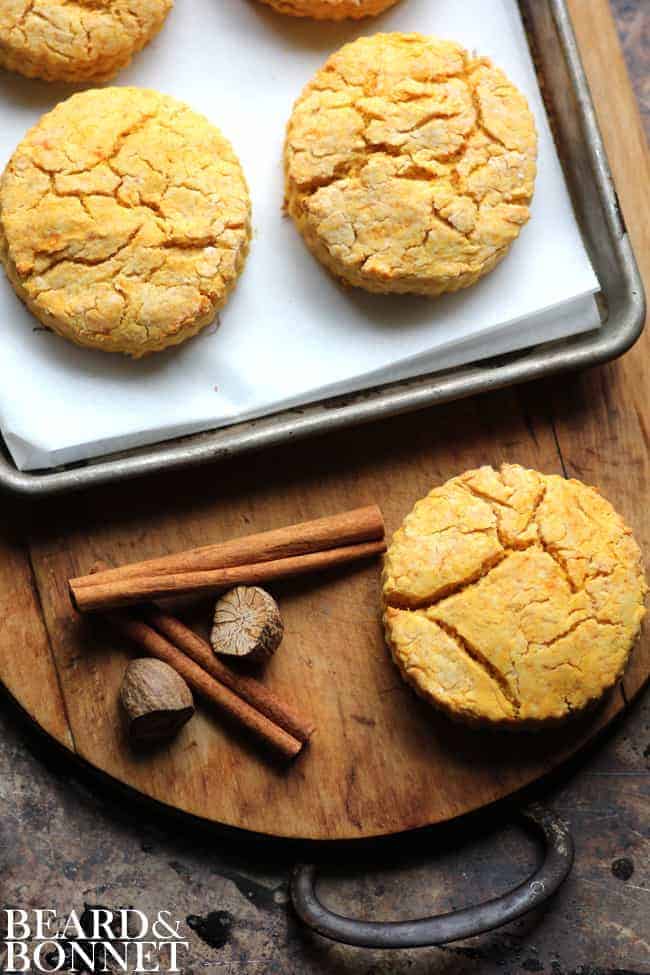 If you have been following B&B posts for a while than you are fully aware that I am slightly obsessed with biscuits, brownies, and raw bars. I can't help it, I think about these 3 types of food daily and wish that they each qualified as their own food group so that I could eat them every day. Since I can't eat them all day, every day I try to make it count when I do. I happened to have a few baked sweet potatoes left over from dinner a few nights ago so the next morning I decided to use them up in a biscuit. I love the flavor that the sweet potatoes infuse into these biscuits and the beautiful orange color is a total bonus. *Random fact about me: Orange is my favorite color! 
Sweet Potato Biscuits
Adapted from Dorie Greenspan
Makes approximately 1 dozen biscuits
2 cups Better Batter G-Free All Purpose Flour
1 Tbsp. baking powder
1 tsp. salt
1/4 tsp. cinnamon
1/8 tsp. nutmeg
2 Tbsp. light brown sugar, packed
6 Tbsp. cold unsalted butter, cut into 10-12 small cubes
1 1/4 cups baked sweet potatoes, peeled and mashed with a fork
Place a baking rack in the center of the oven, preheat to 425°F, and line a baking sheet with a silicone mat or parchment paper.
In a large bowl whisk the Better Batter, baking powder, salt, cinnamon, and nutmeg together. Add the brown sugar and stir well to incorporate ensuring that there are no large clumps left. Drop in the butter and toss with your fingertips to thoroughly coat them in the flour mixture. Quickly, use your fingertips or a pastry blender, to cut and rub the butter into the flour until the mixture  looks like rough sand or pebbles.
Add the mashed sweet potatoes to the bowl and use a fork to toss and gently turn the ingredients together until you have a soft dough. Reach into the bowl and turn the dough 3-4 times with your hands, gently kneading the dough so that everything comes together.
Lightly dust your work surface with Better Batter and turn out the dough. Pat the dough out lightly with your hands until it is about a 1/2 inch high. Don't worry if the dough isn't completely even, you would rather have slightly inconsistent height in the biscuits than handling them too much, which could make them tough.
Use a 2-2 1/4-inch-diameter biscuit cutter to cut out the biscuits. Cut the biscuits as close as possible to one another so you can get the most cuts out of the first round as possible. Transfer the biscuits to the baking sheet and gather together the scraps, working the dough as little as possible, pat out again and cut out the remaining biscuits.
Bake the biscuits for 14-18 minutes, or until they are puffed and golden. Transfer then to a cooling rack, allowing about 10 minutes for them to cool. As the biscuit cools the sweet potato flavor will intensify. Serve immediately with desired condiments. I like to have butter, honey, and maple syrup available at the table. I also suggest eating as many of these little beauties as you can possibly hold, because like a lot of g-free baked goods, unfortunately these little gems lose their awesomeness the longer they set out.