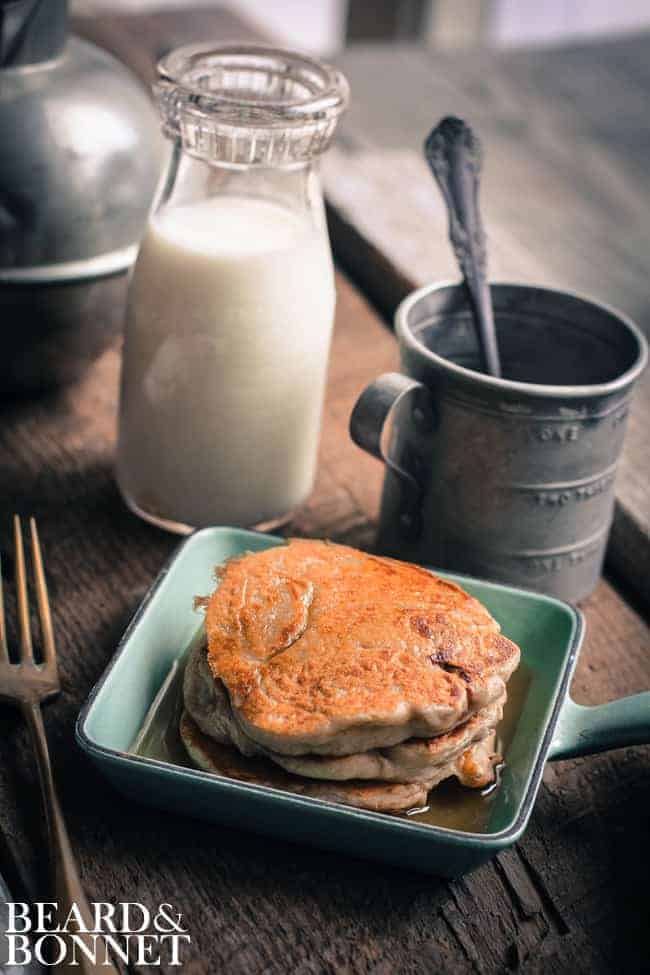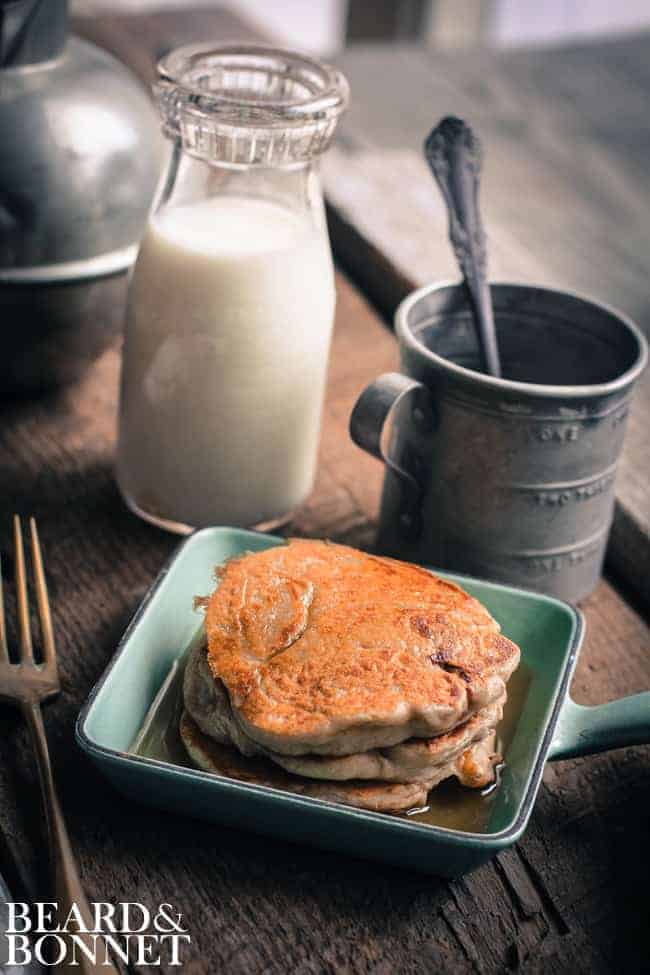 It was a little gloomy here over the weekend; little bursts of rain and chilly ocean air kept us inside and bundled up. No complaints here because we needed a weekend to just sort of reset and relax at home. Last week when we were suffering through that crazy heat wave all I could think about was lite salads, no bake desserts, cocktails, and ice cream. Enter a day or two of slightly chillier weather though and I was longing for a more substantial meal with soul warming flavors. Isn't it funny how subtle shifts in the weather can really change what our bodies crave for sustenance? I occasionally post recipes for pancakes here on Beard and Bonnet; maybe you saw these Sourdough Pancakes, or Eggnog Pancakes. Honestly though, pancakes are one of those meals in our house that isn't a regular occurrence, more of like a special treat on mornings when we have nothing but time to just enjoy each other's company and take it easy for a change. So last Sunday morning while the chill was still in the air and we were still in our pajamas we gathered around our breakfast table and each had a hearty stack of apple-studded pancake perfection, caught up on our week, and a few cartoon episodes in the process. What is your favorite flavor of pancakes?
Print
Apple Pancakes
Hearty gluten-free pancakes studded with pan roasted cinnamon apples. Perfect for a chilly morning.
For the Pan Roasted Apples
3

medium-sized Pink Lady apples

1 Tbsp

. salted butter

1 Tbsp

. unsalted butter

1 Tbsp

. brown sugar, firmly packed

½ tsp

. cinnamon

¼ tsp

. nutmeg, grated

½ tsp

. gluten free vanilla extract
For the pancakes
1 ½ cups

Better Batter, gluten-free all purpose flour

1 ½ tsp

. baking powder

1 Tbsp

. sugar

½ tsp

. salt

1

egg

2 cups

low-fat milk

3 Tbsp

. butter, melted and cooled
Instructions
Peel and core the apples, then slice them very thinly.
Melt the butter in a large skillet over medium heat. Add the apples and cook until slightly softened. About 3-5 minutes. Stir in the brown sugar, cinnamon, and nutmeg; continue to cook, stirring often until very tender, around 6-7 minutes. Remove from heat and stir in the vanilla. Set aside and allow to cool completely.
To make the batter use a whisk to stir and combine the flour, baking powder, sugar, and salt in a large bowl. In a separate bowl, beat the egg, then stir in the milk and melted butter. Pour the wet ingredients into the dry and stir until just combined. Mix in the cooled apples.
Lightly oil a griddle or large skillet and heat over medium heat until it is hot enough for water to dance across the surface. Drop batter by the tablespoonfuls, slightly spreading the batter out as they start to set on the bottom. Cook until golden then flip and repeat with the remaining side. Serve with warm maple syrup.
Notes
This pancake batter can be a little thick, if you find that it is hard to work with add more milk a tablespoon at a time.
Recipe Card powered by