Can you sense the excitement in the air? As the 4th of July approaches, it's time to fire up those grills and prepare to host the ideal cookout party with the best July 4th foods and our favorite people. Today, I am sharing 7 recipe ideas that will make your July 4th party a tasty and unforgettable event.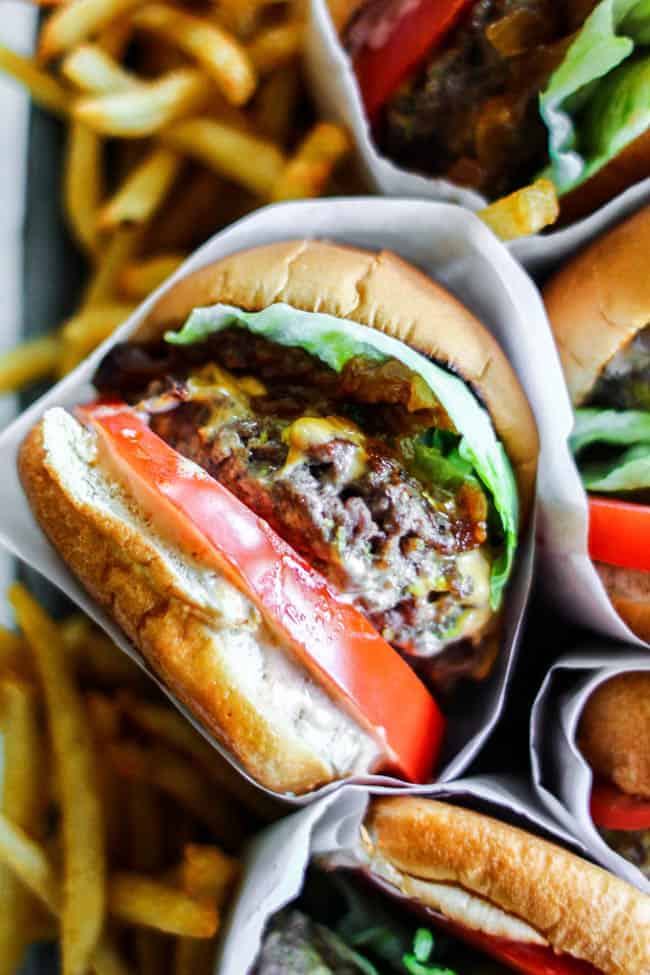 July 4th Foods: Grilled Meats
I don't know about you, but when I think of 4th of July foods, I think about deliciously grilled meats. What's more quintessentially American than a perfectly cooked burger? I can't think of anything.
A must-have recipe for any cookout. This burger recipe will have your guests coming back for seconds and maybe even thirds.
Top the burgers with melted cheese, caramelized onions, and a not-so-secret sauce. Round out the plate with a side of crisp salad and toasted buns.
Looking for a lighter but just as delicious option? Try grilled chicken! The key is the delicious marinade, which gives the chicken a fresh and zesty flavor. Plus, it can be a great salad topping!
It's also oh-so-easy: all it takes is blending lemon juice, garlic, olive oil, and a variety of herbs and spices.
With this delicious marinade, your grilled chicken is guaranteed to steal the show at your summer celebration, whether you prefer drumsticks, wings, or boneless breasts.
July 4th Foods: Side Dishes
Of course, the side dishes can't be overlooked! Let's complement the bold flavors of these main dishes with some colorful and refreshing summer salads and veggies.
You've heard of corn on the cob, but have you ever wondered how to cook corn with the husk on it?
While there are many quick and tasty ways to prepare corn, grilling it still in the husk adds a ton of smoky flavor without drying out the kernels.
When you have so much fresh produce to choose from, salads are a classic side dish at any cookout.
Our version of this famous salad is bursting with fresh tomatoes, cucumbers, peppers, and leafy greens - along with a hearty crunch of salty mixed nuts for good measure and lots of flavor.
July 4th Foods: Desserts
My favorite part of this holiday is all the festive red, white, and blue desserts! These 4th of July desserts will ignite your celebration with delicious flavors and festive colors that everyone will love.
My favorite part of the 4th of July is the festive red, white, and blue desserts!
So if you're looking for a no-bake dessert with a little patriotic flair, try this layered Patriotic Jello Cake. Everyone from kids to the adults will love it, trust me!
Get the recipe for this Patriotic Jello Cake here!
This red, white, and blue cake is another perfect dessert for all of your patriotic party needs!
It requires zero baking and is completely customizable. No cherries? Use strawberries. Not a fan of blackberries? Go all blueberries.
July 4th Foods: Drinks
The heat is kicking up, so why not quench your thirst in style? These cocktails taste like summertime in a glass. Keep the celebration going all night long with drinks that are bursting with flavor.
Summer is in full swing, and there's no better way to cool down on a hot day than with a refreshing glass of Blueberry Lemonade. California-grown blueberries are the perfect way to add a bit of both sweet and tart flavor to the most classic summertime drink, lemonade, all while lending their vibrant color to the mix.
On a hot summer day, there is nothing more refreshing than an ice-cold drink. This is where the Strawberry Lemon Smash Cocktail comes in!
This summer sipper is the perfect ratio of tart and sweet, with freshly squeezed lemon juice and luscious berries all topped off with sparkling wine to give it that irresistible fizz factor!
Get the recipe for this Strawberry Lemon Smash Cocktail here!
Watermelon + mint + coconut rum - seriously, can you think of a better summer time drink combination?!
Make a creamy version of this cocktail by adding 1 tablespoon of full-fat coconut milk before you strain over ice!
As 4th of July draws near, let's embrace the spirit of freedom and savor the pleasures of our cookout celebrations. So many delicious summertime staples are just waiting to be eaten, from juicy hamburgers to mouthwatering grilled chicken, refreshing cocktails, and cool summer salads. Fire up the grills, gather your loved ones, and make lifelong memories.