As a pet parent, you want nothing but the best for your furry friend, and this includes their diet. It can be difficult to find healthy and nutritious treats for your pup, and many pet owners often wonder if their furry friends can eat the same things as humans. For example: can dogs eat carrots? Let's delve into the benefits of carrots for dogs and make a scrumptious carrot biscuit recipe that your pup is sure to enjoy!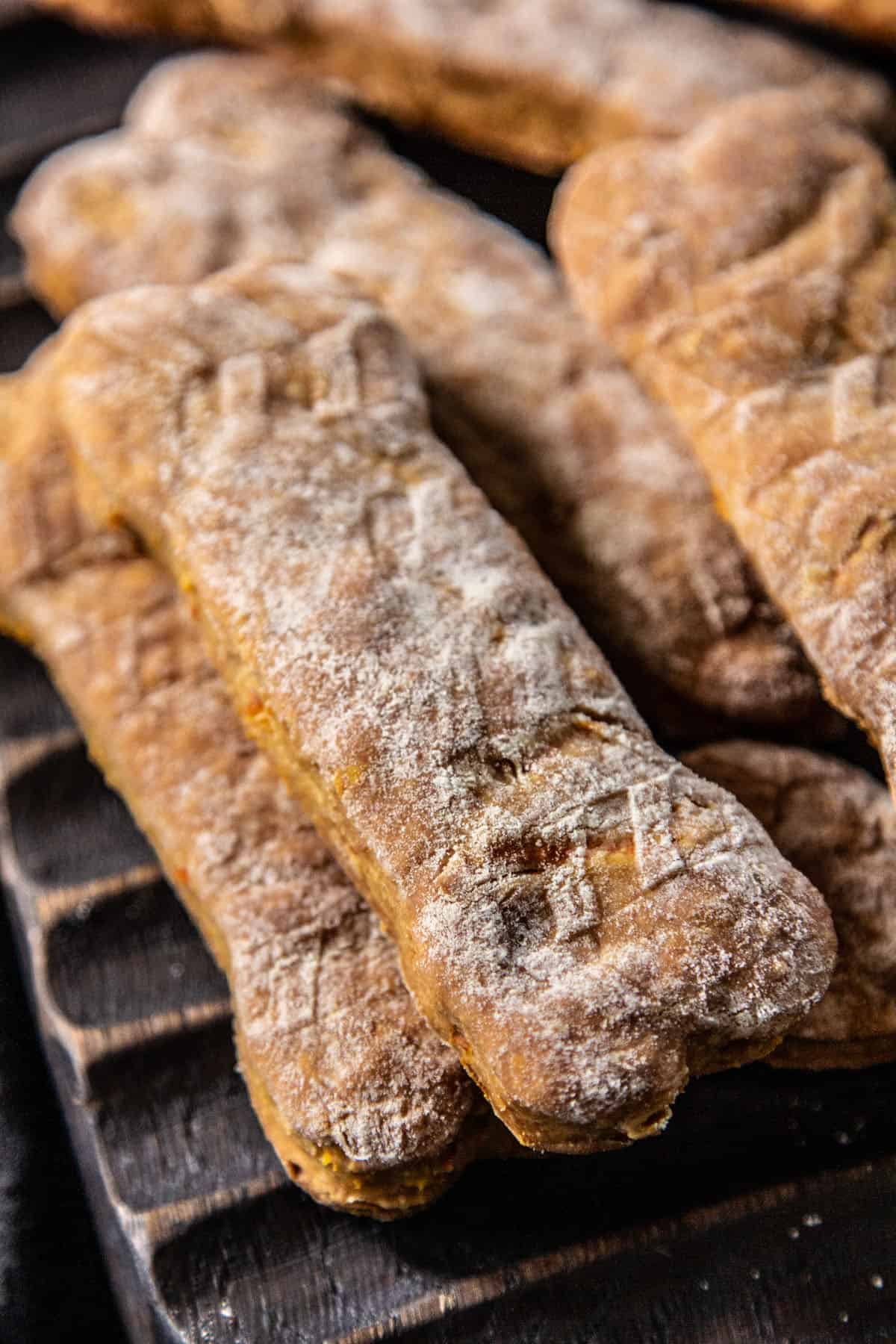 ***Please note, I am not a veterinarian, just a very passionate dog owner! The information in this blog post documents our own personal experiences, research, and the recipes that we feed our dogs under our veterinarian's careful supervision. Please, consult with your vet and use your own personal judgment when considering transitioning to a 100% human grade food diet for your pup.***
9 out of 10 Vets Agree: Carrots Are a Healthy Treat for Dogs
Many reasons dog owners wonder "can dogs eat carrots?" is because they may not be clear on whether carrots are healthy for their dogs. Carrots are not only a popular snack for humans, but they also have numerous health benefits for dogs. According to the American Kennel Club, 9 out of 10 veterinarians recommend feeding carrots to dogs as a healthy treat.
Carrots are packed with vitamins and minerals like vitamin A, potassium, and fiber. They also help promote dental health by cleaning teeth and freshening breath. Additionally, carrots aid in digestion and help regulate the digestive system to prevent constipation.
How to Safely Prepare Carrots for Your Pup
There are several ways to prepare carrots for dogs, but it is important to consider your pup's size, age, and chewing habits.
For older dogs or those with dental problems, cooked or pureed carrots are recommended, as they are easier to chew and digest. For younger dogs or those with strong teeth, raw carrots are a great option.
Make sure to chop or puree the carrots to avoid any choking hazards. Adding a small amount of peanut butter or cinnamon can also enhance the flavor.
We add carrots to our Easy Homemade Dog Food Recipe that we feed our dogs every night!
Scratch-Made Goodness: Bake Your Pup a Delicious Carrot Biscuit
Making homemade dog treats is another excellent way to ensure that your pup is getting high-quality, natural ingredients. I've come up with a carrot biscuit recipe that's simple to make and only requires a few ingredients.
The biscuits can be stored in an airtight container for up to two weeks!
Beyond Carrots: Mix Up Your Dog's Diet with These Other Healthy Foods
While carrots are an excellent snack option for dogs, it is crucial to incorporate variety into their diet by including other fruits, vegetables, lean proteins, and whole grains. Some dog-friendly foods include apples, blueberries, green beans, chicken, fish, and brown rice.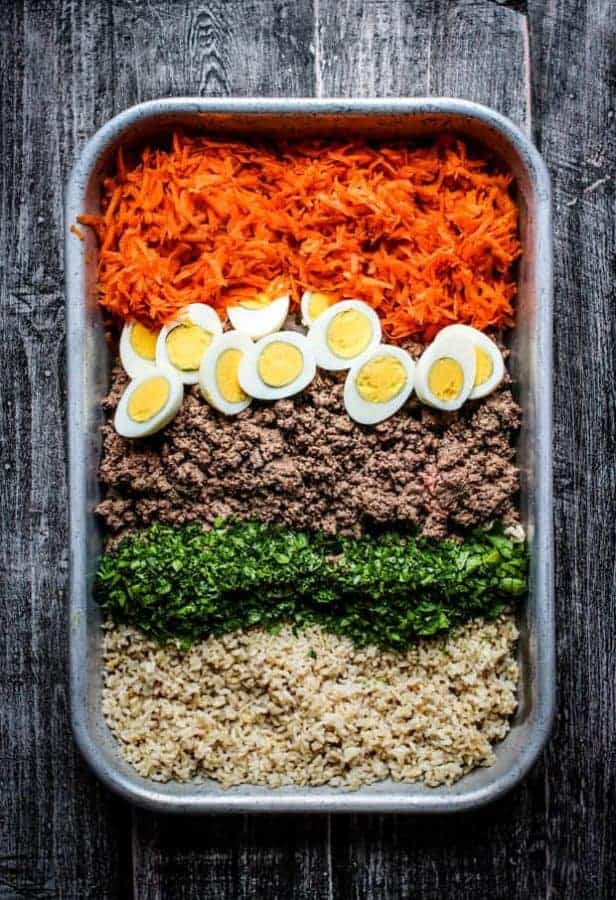 Feeding your pup a diet of 100% human grade dog food is easy, cost effective, and WAY better for them than a traditional doggie diet of processed kibble! My easy homemade dog food recipe combines lean ground sirloin, wholesome brown rice, fresh vegetables, hard boiled eggs, and tender herbs for a healthy, vibrant alternative to traditional dog food that has given our 11 year old dog a new lease on life!
In Conclusion: Bake These Delicious Carrot Treats for Dogs Today
Providing your dog with healthy snacks is vital for maintaining their overall health and wellbeing. Carrots are an excellent source of nutrition for dogs, offering many benefits from aiding in digestion to promoting dental health. With the simple-to-make carrot biscuit recipe and other snack ideas presented in this article, you can ensure that your furry friend receives the best care possible. Treat your pup to some delicious and nutritious snacks today!
Steps To Making These Dog Treats
More Delicious Treats Your Pups Will Love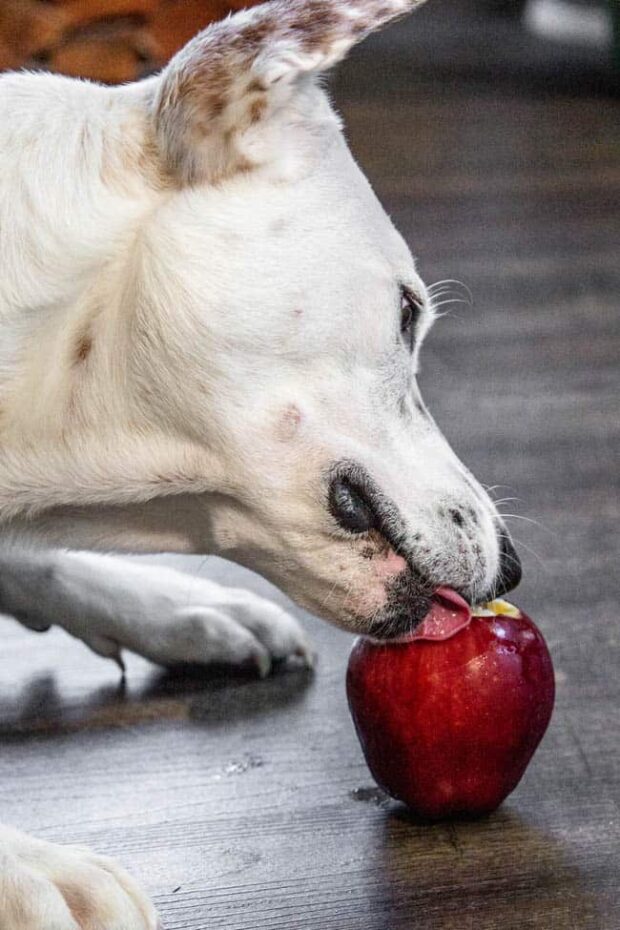 Do you know what fruit dogs can eat? We love our dogs and love to pamper them as if they're our own kids. It's also fun to enjoy a handful of our favorite fruit with them, especially when they give you those adorable begging eyes. You and your pup can safely enjoy apples, blueberries, strawberries and more together!
10 minutes of hands-on time and only 4 ingredients stand between you and your dog's new favorite treat! This peanut butter dog treats recipe is simple to make, gluten-free, and full of good for your dog ingredients.
We've covered carrots and fruit, but can dogs eat sweet potatoes? The answer is a resounding YES! Sweet potatoes aren't only great for humans, they are an excellent source of vitamins and nutrients for our 4-legged friends as well! Cubed and steamed, mashed, or sliced and dehydrated like this simple treat - there are lots of easy ways to incorporate sweet potatoes into your dog's diet.
Print
Carrot & Peanut Butter Dog Biscuits
Dogs LOVE carrots, try adding shredded carrots to your next batch of homemade treats. 
Author:
Prep Time:

15

Cook Time:

60

Total Time:

1 hour 15 minutes

Yield:

22

large biscuits

1

x
Category:

Dog Treats

Method:

Baked

Cuisine:

Dog Treats
2 ½ cups

gluten free all purpose flour

1

egg

1 cup

natural peanut butter with zero additives

1 cup

water

2 tablespoons

honey

1 cup

shredded carrots
Instructions
Preheat the oven to 350°F and line a baking sheet with parchment paper. Set aside.

In the bowl of a stand mixer fitted with the paddle attachment combine the gluten free flour, egg, peanut butter, water, carrots, and honey and mix until completely combined.

Transfer the dough to a lightly floured work surface and roll until about ½ inch thick. Use a cookie cutter to cut out the desired shapes and arrange closely on the baking sheet. This dog treat recipe barely spreads or rises, so you can snuggle them into the sheet pan.

Bake for 1 hour or until golden and hardened like a store bought dog biscuit. If your pup has sensitive teeth you can bake a soft dog biscuit by decreasing the cook time to 20 minutes.
Keywords: can dogs eat carrots, dog treats, dog biscuit
Recipe Card powered by